Wearing a Mask Is a Sign of Mutual Respect During the COVID-19 Pandemic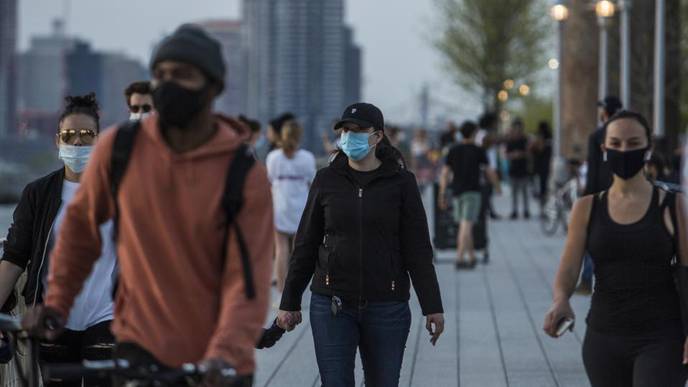 06/25/2020
Photo: Pablo Monsalve/Viewpress via Getty Images 
As we continue to struggle with the realities of living through the Covid-19 pandemic, I can't help but feel disappointment, even sadness, every time I venture out of my house and witness people not wearing a mask. My rationing of groceries and household goods intended to keep me home for three weeks at a time have depleted several times over as the pandemic nears its five-month mark in the United States. Putting on my mask, and gloves, to head to the corner market or get a "breath of fresh air," I am astounded by the large numbers of people who are not wearing a mask.
As a public health physician, I know the SARS-CoV-2 virus doesn't care that we are all going a little stir crazy sheltering in place. Coronavirus lays in wait to move from one person to another, as the percentage of people with asymptomatic infection is quite high. My chances of getting infected, therefore, are not solely based on my actions, but are also impacted by the behaviors of those around me. This is why I am both disappointed by the seemingly nonchalant actions of those without masks, and sad that I know it will mean the pandemic will continue to cause illness and death.
While it might be my preference to keep us all 'locked down' for much longer as I continue to witness this 'bad' behavior, I am also cognizant that we cannot stay in our homes forever. People need to return to work, want to go back to school, and long to enjoy recreational activities once again. I, too, want to spend my summer relaxing at the beach, dining with friends, and traveling to see family who all live in distant places requiring air travel. My reluctance to do these activities is amplified by the refusal of many to wear a mask.
You wear a mask to protect others, and others wear a mask to protect you. Wearing a mask is a true sign of respect for others; it is not an impingement on one's freedom as many have claimed. Wearing a mask tells the person you pass on the street, share an aisle within the supermarket, or march alongside at a peaceful protest, that you respect them as a fellow human.
While being completely supportive of the Black Lives Matter movement, I must simultaneously implore my fellow humans to please wear a mask whenever it is not possible to socially distance. The heartbreaking reality of racism in America has reached a tipping point during this pandemic, bringing people of all ages, races, ethnicities, sexual orientation, and gender in support of Black Live Matter. This issue rightly calls for the unity garnered by peaceful protest and marches that cannot wait for the pandemic to subside.
My sadness, however, is hard to overcome when I see the lack of social distancing and large numbers of people not wearing masks, as I know this can only lead to the further spread of Covid-19. The very people being embraced through this incredible show of unity are, unfortunately, likely to be among those who succumb to Covid-19 as Blacks, Latinos, and Native Americans continue to be disproportionately impacted by the pandemic. The reasons for this are many, but most stem from the systemic racism that is pervasive in America.
We are clearly not doing the right things in the United States as we account for less than five percent of the world's population, yet represent one-quarter of the global deaths from Covid-19. We all have to do our part to curb this pattern. Wearing a mask, along with social distancing and hand washing, does not seem too much to ask if we are insistent on opening up society once again. The virus has not gone away just because we want to get out of the house. So, when we step out of our homes and enter any space shared by others, please wear a mask to save a life that may not be your own. And hopefully, others will do the same to save yours.