University of Cincinnati Research Could Change Vaccine Practices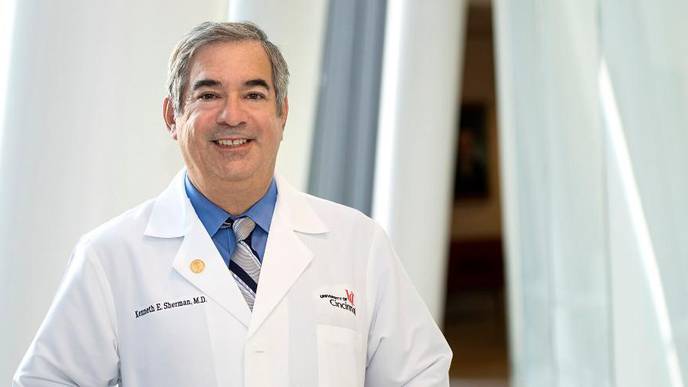 10/21/2022
Photo: UC News
New research out of the University of Cincinnati shows that a course of a hepatitis B vaccine provides complete protection for people with HIV.
The UC research shows that a three-dose course of the hepatitis B vaccine HEPLISAV-B provides complete protection for people living with HIV who have never been vaccinated against or exposed to the hepatitis B virus (HBV).
The study findings were presented at the IDWeek conference in Washington, D.C., in October. IDWeek is a joint annual meeting of various groups focused on diseases, including the Infectious Diseases Society of America, Society for Healthcare Epidemiology of America, the HIV Medicine Association, the Pediatric Infectious Diseases Society and the Society of Infectious Diseases Pharmacists.
"Hepatitis B is highly ranked among liver-disease-related causes of death among people living with HIV," says Kenneth Sherman, MD, PhD, Gould Professor of Medicine and director, Division of Digestive Diseases in the Department of Internal Medicine at the UC College of Medicine and study chair and senior author of the research. "This finding may well change routine vaccine practices among persons living with HIV."
HBV, which is spread mostly through sexual contact and the sharing of contaminated needles, causes the hepatitis B liver infection. People living with HIV are at greater risk of liver-related illness and death when co-infected with HBV. The HEPLISAV-B vaccine was approved by the Food and Drug Administration in 2017 as a two-dose vaccine regimen for adults, but little was known at that time about its ability to protect people living with HIV.
"The difference in HEPLISAV-B from other vaccines is that it contains a product called CPG, which is a type of immune booster that could improve response to the vaccine by the body's immune cells," says Sherman. "In the pivotal clinical trials that were done leading to that vaccine's licensure, it was shown that the vaccine with just two doses rather than the usual three-dose series required for prior vaccines actually achieved equivalent or greater levels of response. However, persons with HIV do not have high rates of response to the older vaccine preparations. That is why it was suspected that a three-dose regimen with the new vaccine might lead to better overall response rates."
The analysis included 68 adults living with HIV at 38 sites in the United States, South Africa and Thailand. None of the people enrolled in the study group had received HBV vaccination previously or had evidence of being exposed to HBV and all were on antiretroviral therapy. The levels of antibody produced were higher than what has been observed following older vaccine preparations. "Higher antibody levels often translate to better vaccine durability," according to Sherman.
"While this will not cure those who already have hepatitis B, it will keep others from getting the disease," says Sherman.
The multicenter, multinational study is ongoing and will also provide data regarding those who failed prior vaccination for hepatitis B.
The National Institute of Allergy and Infectious Diseases, part of the National Institutes of Health, sponsors the ongoing Phase 3 ACTG A5379 clinical study.