Texas A&M Researchers Contribute to International Project Studying Coronavirus Transmission in Humans, Cattle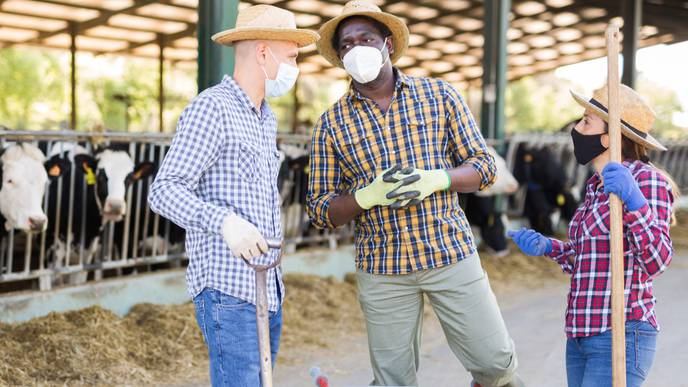 11/13/2023
Researchers from the Texas A&M School of Veterinary Medicine and Biomedical Sciences' (VMBS) Veterinary Education, Research, and Outreach (VERO) program have joined an international team studying how coronaviruses are spread and whether an individual's microbiome (the collection of microbes living in or on the body) might impact that transmission.
Coronaviruses are a family of viruses that can cause a variety of diseases in many species, from the common cold and severe acute respiratory syndrome (SARS) in people, to diarrhea in calves and respiratory disease in adult cattle.
The research team — which includes researchers from the United States, the United Kingdom, and Canada — has received $3.5 million from the United States Department of Agriculture National Institute of Food and Agriculture (USDA-NIFA), the National Science Foundation, the National Institutes of Health, and the Biotechnology and Biological Sciences Research Council (BBSRC). 
Their work will use cattle as a model for viral transmission during group "commingling events" — when unfamiliar animals or people come together in a defined space and time with intensive and sustained contact. 
Commingling is associated with increased disease transmission risk and possible global consequences, as the COVID-19 pandemic has highlighted. Commingling events in humans include large group events, air travel, incarceration, and classroom settings.
Among animals, commingling routinely occurs during livestock production when the body's ability to fight disease may be lowered, while, at the same time, the body is being exposed to more pathogens.
"It's more and more the nature of our society that we have these types of commingling events, through travel, socialization, and the general nature of day-to-day interactions," said Dr. Paul Morley, VERO's director of food animal research and one of the project's co-principal investigators. "Being able to understand how viruses behave would help us apply preventive measures, including vaccination and antiviral treatment, for both humans and cattle."
The researchers, led by Dr. Noelle Noyes, an associate professor in the University of Minnesota College of Veterinary Medicine, will work to understand why some people and animals get infected and/or develop symptoms during commingling events but others do not.
At VERO, Morley and Dr. Matthew Scott, an assistant professor of microbial ecology and infectious disease, will work alongside three graduate students to collect samples from local beef and dairy cattle to track how bovine coronavirus, which is not able to infect people, spreads between animals. 
"The Texas Panhandle is one of the greatest epicenters of cattle production in the United States," Morley said. "We're taking advantage of our great contacts in the cattle production industries, both beef and dairy, to look at coronavirus transmission in young calves during natural management circumstances."
Specifically, they will look at how the virus spreads depending on factors like how many cattle are housed together and if they are moved to new locations via livestock trailers. They will also measure the cattle's immune systems and microbiomes to understand if differences have an impact on whether cattle get infected.
"We'll be looking at virus shedding before, during, and after commingling events, as well as immune function, genes that get turned on or off, and changes in the microbiomes of the respiratory and gastrointestinal tracts," Morley said.
Using cattle from real livestock operations will ensure that data collected accurately represents real-world transmission factors.
"We hope to uncover the complex multi-level mechanisms that underlie viral transmission during intensive mixing of unfamiliar calves," said Dr. Joseph Neary, principal investigator of the project's U.K. activities. "These new insights will better inform calf husbandry practices to reduce infectious disease transmission risk, particularly where newly mixed calves have been sourced from multiple farms."
The study will also expand fundamental scientific understanding of viral behavior. 
"A unique aspect of this work is the integration of microbiome dynamics into models of virus transmission at the population level," Noyes said. "There's a lot of scientific evidence about the importance of the microbiome in individual health, but we don't have as much understanding of how population-level microbiome dynamics may influence disease transmission, particularly during situations of heightened disease risk, such as commingling."  
The project is expected to last through 2026. In addition to Texas A&M University and the University of Minnesota, collaborators on the project include scientists from Mississippi State University, the University of Liverpool, and the University of Saskatchewan.
"This project is the idealization of what we're trying to do at VERO, working with people around the world on a big project with big impact," Morley said. "The impact on our graduate students is going to be tremendous; they'll get to interact with this internationally renowned, extremely talented group of people. It's a great opportunity for them in their graduate programs."