Study Seeks New Treatments for Post-Traumatic Stress Disorder in Veterans, Military Personnel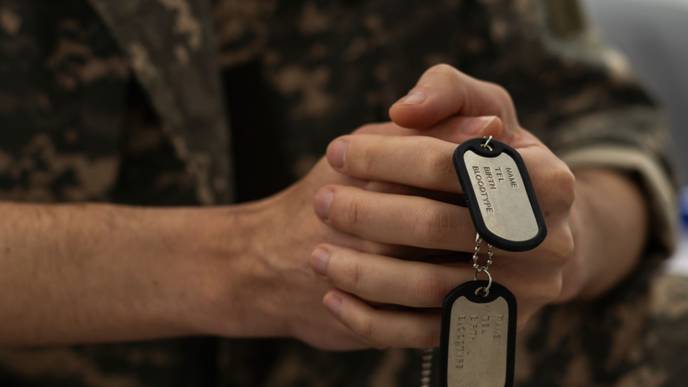 10/27/2023
A groundbreaking clinical trial launched October 16 will explore the promise of new drug treatments for military personnel and veterans suffering from post-traumatic stress disorder (PTSD). The multi-site trial is spearheaded by the U.S. Army Medical Materiel Development Activity (USAMMDA), part of the U.S. Army Medical Research and Development Command, and supported by a project team that includes representatives from the U.S. Air Force, Army, Navy, and Special Operations Command.
Military veterans are more likely to have PTSD than civilians, according to statistics from the U.S. Department of Veterans Affairs, and service members who deployed to a war zone are more likely to have PTSD than those who did not deploy. Overall, about six percent of the U.S. population will have PTSD at some point in their lives.
People with PTSD have difficulty recovering after experiencing or witnessing a traumatic event. The condition may last months or years, with triggers that can bring back memories of the event, accompanied by intense emotional and physical reactions. Symptoms may include nightmares, avoidance of certain situations, heightened stress reactions, anxiety, and depression, according to the National Institute of Mental Health.
Current treatment for PTSD includes several types of trauma-focused psychotherapy as well as medications to manage symptoms. However, previous research has shown that patients with a military history respond poorly to current drug treatments and psychotherapy compared to non-veteran patients.
Since 1987, over 130 PTSD pharmacotherapeutic trials have been conducted, but only two drugs (paroxetine and sertraline) are approved by the Food and Drug Administration (FDA) specifically to treat the condition. Although other drugs can be prescribed "off-label," meaning they are FDA-approved for other medical conditions, there is scant data to guide such use in the military population, according to Kimberly del Carmen, Ph.D., a health science product manager at USAMMDA.
"PTSD is heterogenous in nature, meaning that no single biological cause is common to all individuals with PTSD," said del Carmen. "For that reason, we don't think there will be one 'magic pill' that will work for everyone, so we're employing an innovative testing strategy called an Adaptive Platform Trial."
This clinical trial platform design allows for an efficient use of resources with an accelerated schedule in which multiple drugs are simultaneously and sequentially tested. As the trial progresses, drugs that fail will be replaced with new candidates, and those that are successful will "graduate" to the next stage of development.
In addition to evaluating numerous potential PTSD treatments, the trial also will examine several biological indicators to determine whether people with PTSD have some shared characteristics, such as specific biological markers, that can provide insight into designing potential treatments or matching treatments to individuals.
According to del Carmen, three drug candidates that are FDA-approved for conditions other than PTSD were chosen for the first round of testing. Frequent interim analyses of the data will be conducted, and successful testing results will trigger the first of a series of clinical practice guideline decision points, including recommendations for the off-label use of these drugs. 
Drugs tested in the future are likely to be novel drugs, since the goal of this effort is to obtain FDA approval of one or more therapeutics for the treatment of PTSD, del Carmen said.
The trial will include 15-20 clinical sites within the United States and is planned to include up to 600 subjects during the testing of the first three drugs over approximately three years. 
About USAMMDA
The U.S. Army Medical Materiel Development Activity, part of the U.S. Army Medical Research and Development Command, develops, delivers, and fields critical drugs, vaccines, biologics, devices, and medical support equipment to protect and preserve the lives of Warfighters across the globe. USAMMDA project managers guide the development of medical products for the U.S. Army Medical Department, other U.S. Services, the Joint Staff, the Defense Health Agency, and the U.S. Special Forces community.  The process takes promising technology from DoD, industry, and academia to U.S. Forces, from the testing required for U.S. Food and Drug Administration approval or licensing to fielding and sustainment of the finished product.  
---
---
Method of Research
Randomized controlled/clinical trial
Subject of Research
People
Disclaimer: AAAS and EurekAlert! are not responsible for the accuracy of news releases posted to EurekAlert! by contributing institutions or for the use of any information through the EurekAlert system.