Singapore & Japan Clinician-Scientists Collaborate on Groundbreaking Telesurgery Trial Spanning Over 5,000km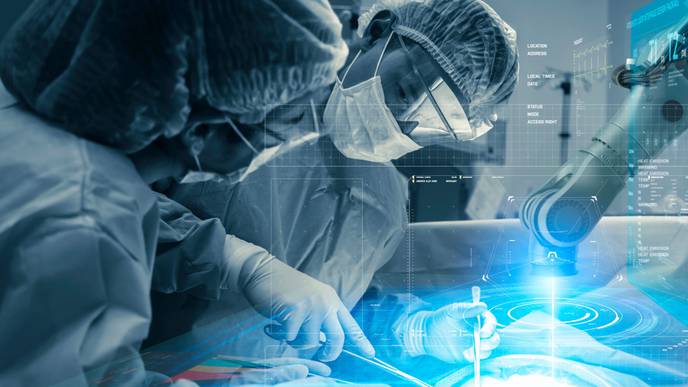 10/13/2023
This preclinical trial surgery involves clinician-scientists in NUS Medicine and the National University Hospital in partnership with Fujita Health University
SINGAPORE, Oct. 11, 2023 /PRNewswire/ -- Singapore'sNational University Hospital (NUH) and the Yong Loo Lin School of Medicine at the National University of Singapore (NUS Medicine) are collaborating with Fujita Health University (FHU) in its first robotic telesurgery trial between Singapore and Japan, from 9 to 11 October 2023.
Leveraging Japan's first surgical robot, clinician-scientists from NUH and NUS Medicine will remotely perform a gastrectomy (stomach surgery performed for cancer) from a surgeon cockpit in Singapore. The surgeons' movements will be transmitted, directed, and replicated by a robotic operation unit located in Japan via a dedicated international fiber-optic network, all performed on a simulated organ (refer to Annex A for technical details on the remote surgery setup and connection).
This collaboration follows the Memorandum of Understanding (MOU) signed in August 2023 between NUS Medicine and FHU, one of Japan's leading universities with a strong research focus in robotic surgery and telesurgery. The MOU aims to deepen academic partnership through active joint collaborations, including the execution of remote surgical experiments, and by promoting mutual exchange activities such as student exchange programmes.
Harnessing the potential of telesurgery 
The two gastric surgeons leading the demonstration in Singapore are Professor Jimmy So from the Department of Surgery, NUS Medicine, and Senior Consultant in the Department of Surgery, NUH, as well as Assistant Professor Kim Guowei from the Department of Surgery, NUS Medicine, and Consultant in the Department of Surgery at the NUH.
In Japan, the surgical team is led by Professor Ichiro Uyama and Professor Koichi Suda from Fujita Health University.
Tapping on FHU's vast expertise in robotic surgery, this latest project aims to evaluate, clarify and address the potential issues arising from such remote surgeries.
The preclinical trial – involving a series of complex gastrectomy procedures conducted by both teams – aims to prove that long-distance robotic telesurgery for technically demanding procedures can be safely conducted using a robotic system connected by high-speed fiber-optic communication.
While robotic surgery is not new in Singapore, this collaboration between NUS Medicine, NUH and FHU marks a critical step towards making remote surgeries an accessible option to patients in the near future.
Professor Jimmy So, who led the surgical team in Singapore, said, "Remote telesurgery offers immense potential to enhance global access to specialised care, reduce travel and wait times for patients, minimise health risks during emergencies and pandemics, and foster training and collaboration among medical professionals worldwide. It also contributes to improved surgical expertise for complex cases, particularly benefiting underserved areas."
During public health crises, such as a global pandemic, remote telesurgery helps minimise the risk of disease transmission between patients, healthcare workers, and surgical teams. Surgeons can perform surgeries from a safe location, reducing the potential for infection spread.
Such forms of surgery also help promote tele-mentoring or distance learning in medical education, allowing young doctors and medical students to learn surgical techniques and skills from lecturers and medical experts based not only in a different part of Singapore, but also anywhere in the world.       
Assistant Professor Kim Guowei added, "In partnering with our Japanese colleagues, we hope to advance and unlock the potential of telesurgery for patients and doctors alike. This continuous exchange of knowledge, advanced surgical techniques, and best practices across borders contributes to improving surgical expertise and outcomes."
SOURCE National University Hospital