Research, Advocacy, Education Urged to Address Chronic Disease Through Food Is Medicine Programs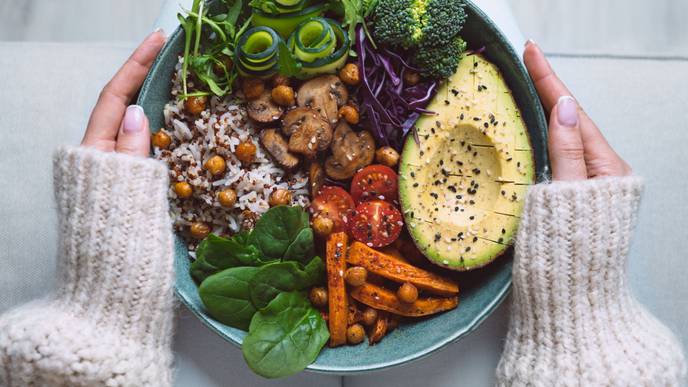 10/02/2023
Advisory Highlights:
Preliminary evidence demonstrates that health care systems could incorporate healthy foods into a patient's care, with resulting improvements in health outcomes, reduced health care utilization and improved cost-effectiveness.
Food Is Medicine interventions represent a paradigm shift focused on incorporating food and nutrition programs into a health care system to

treat, manage and prevent

a range of serious and costly chronic health conditions.
The advisory serves as a roadmap for the research and advocacy initiative led by the Association to identify cost-effective Food Is Medicine interventions for

treating and preventing

nutrition-related health conditions.
Embargoed until 4 a.m. CT / 5 a.m. ET Thursday, September 28, 2023
DALLAS, September 28, 2023 — Creating a stronger body of research on the efficacy and value of clinical Food Is Medicine programs is critical to improving the treatment and prevention of many serious chronic health conditions, according to a new American Heart Association Presidential Advisory published today in the Association's flagship scientific journal Circulation. Given the significant role that food and nutrition play in supporting health, the American Heart Association, a global force for healthier lives for all, recommends approaches to close gaps in research and build a robust evidence base for increasing adoption of clinical Food Is Medicine programs in the U.S.
An estimated 90% of the $4.3 trillion annual cost of health care in the U.S. is spent on medical care for chronic diseases. Unhealthy food intake is a major risk factor for many of these diseases. Healthy food is not accessible or affordable for many people in the U.S., making it difficult to apply clinical food-based interventions that treat and prevent disease. Recent research demonstrates that health care systems may be able to help patients access healthy foods, resulting in improved health, reduced need for health care and better cost-effectiveness.
Food Is Medicine (FIM) may be defined as providing healthy food resources to treat, manage and prevent specific chronic conditions in coordination with the health care sector. FIM programs can be prescribed by a health care professional, health care organization or health insurance plan, and can include interventions such as medically tailored meals, medically tailored groceries and produce prescriptions. FIM represents a paradigm shift focused on incorporating food and nutrition programs into health care systems.
"To unlock the potential of Food Is Medicine and make it a regular and reimbursable component of health care, we need an ambitious and coordinated research approach," said Kevin G. Volpp, M.D., Ph.D., FAHA, American Heart Association volunteer, chair of the Presidential Advisory writing group, director of the Center for Health Incentives and Behavioral Economics at the University of Pennsylvania and research lead of the Association's Food Is Medicine Initiative. "By addressing research gaps and integrating research efforts in collaboration with stakeholders nationwide, we will fuel cross-sector efforts that ensure Food Is Medicine programs improve health costs effectively and are feasible in practice."
FIM programs are not new; however, the study of these interventions in health care has been limited by factors including small sample sizes, non-randomized comparisons and broad differences in data collection and measurement. The advisory proposes a coordinated research approach to compare how well nutrition-based interventions treat and prevent disease compared to standard medical care. This approach is the foundation of the Food Is Medicine Initiative announced at the White House Conference on Hunger, Nutrition and Health in September 2022. Earlier this month, the Association announced the Initiative's first Request for Proposals for groundbreaking research projects. RFP applications are open through Nov. 6. A webinar will be held Oct. 4 to answer questions from researchers considering submitting proposals.
"Food Is Medicine holds the promise to improve health outcomes for millions of patients living with or at risk for cardiovascular disease and other serious chronic health conditions," said Mitchell S.V. Elkind, M.D., M.S., FAHA, FAAN, chief clinical science officer of the American Heart Association, past volunteer president of the Association, a member of the Presidential Advisory writing committee and a tenured professor of neurology and epidemiology at Columbia University. "Too many patients lack access to healthy foods, and they may have limited ability to prepare those foods into healthy meals, but Food Is Medicine programs can help change that."
The advisory outlines key principles to guide research on Food Is Medicine, aligned with the highest standards of clinical research, and emphasizes equity and lived experiences of people in communities across the U.S. The advisory also proposes concurrent efforts to strengthen public policy, ensure quality, standardize professional education, educate the public and prioritize FIM programs at all levels of government.
Food Is Medicine is particularly important within the broader context of the Association's efforts to improve health equity by enhancing food systems and related policies that support improvements in health.
The advisory concludes with a call to action on the steps needed for multi-sector partnerships to develop evidence on efficacy and value that will inform decisions by health insurers to cover FIM as a medical benefit.
The advisory was prepared by a volunteer writing group on behalf of the Association. American Heart Association Presidential Advisories promote greater awareness about cardiovascular diseases and stroke issues and help facilitate informed health care decisions. Presidential Advisories outline what is currently known about a topic and what areas need additional research. While these advisories inform the development of guidelines, they do not make treatment recommendations. American Heart Association guidelines provide the Association's official clinical practice recommendations.
Additional members of the volunteer writing committee are Seth A. Berkowitz, M.D., M.P.H., co-vice chair; Shreela V. Sharma, Ph.D., R.D., L.D., co-vice chair; Cheryl A.M. Anderson, Ph.D., M.P.H., M.S., FAHA; LaPrincess C. Brewer, M.D., M.P.H., FAHA; Christopher D. Gardner, Ph.D., FAHA; Julie E. Gervis, Ph.D.; Robert A. Harrington, M.D., FAHA; Mario Herrero, Ph.D., M.Sc.; Alice H. Lichtenstein, D.Sc., FAHA; Mark McLellan, M.D., Ph.D; Jen Muse, R.D.; Christine A. Roberto, Ph.D.; and Justin P.V. Zachariah, M.D., M.P.H., FAHA. Authors' disclosures are listed in the manuscript.
Additional Resources:
VIDEO: Clips with Dr. Volpp offering insight into the FIM program (closed captioning and transcripts provided) are available on the right column of this release link.
After Sept. 28 at 4 a.m. CT / 5 a.m. ET, view the manuscript online.
American Heart Association Food is Medicine initiative
American Heart Association Scientific Statements and Advisories:
Follow AHA/ASA news on X (formerly known as Twitter) @HeartNews
About the American Heart Association
The American Heart Association is a relentless force for a world of longer, healthier lives. We are dedicated to ensuring equitable health in all communities. Through collaboration with numerous organizations, and powered by millions of volunteers, we fund innovative research, advocate for the public's health and share lifesaving resources. The Dallas-based organization has been a leading source of health information for nearly a century. Connect with us on heart.org, Facebook, X or by calling 1-800-AHA-USA1.
###
For Media Inquiries: 214-706-1173
Steve Weiss: steve.weiss@heart.org
For Public Inquiries: 1-800-AHA-USA1 (242-8721)
heart.org and stroke.org