Phoenix Groups Prioritize Access to Skin Care for Unhoused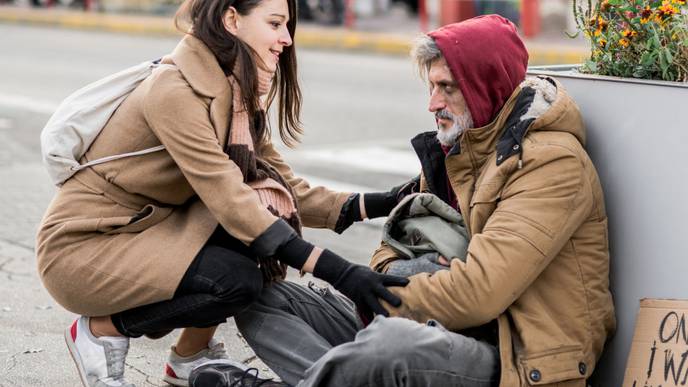 09/28/2023
When Margarita Mendez treats patients, they often tell her they haven't felt love in a long time.
As the senior nurse manager at Circle the City, a Phoenix-based organization that primarily treats people experiencing homelessness in need of medical care, patients often entrust her with their stories and what they've experienced at other health and housing facilities.
Mendez vividly recalls one patient she worked with, a woman who had a chronic infestation of lice but had not been able to get treatment.
The patient had been turned away from other boarding facilities because they did not have any lice treatment available, and they prioritized preventing a facility-wide outbreak. She learned to live with the chronic itching, sores from scratching, lack of sleep and isolation caused by the lice infection.
It wasn't until the woman arrived at Circle the City that she was able to get successfully treated and find a place to rest and recover. Mendez, who specializes in wound care and treats various skin conditions that may be unique to people experiencing homelessness, tended to the woman like she would anyone else.
More on 'The Zone':As more of 'The Zone' in Phoenix is cleared, are fewer unhoused people living in the area?
Unhoused people are often pushed aside, forgotten and mistreated by medical staff and the health care system, according to Mendez.
As Phoenix experienced record-breaking heat this summer that caused severe burns, deaths and other heat-related issues, people experiencing homelessness face barriers to finding basic health care treatment.
While few, several organizations in Phoenix help provide free medical care to unhoused individuals while also providing preventative measures and sharing resources that may help address skin care issues faced by this vulnerable population.
Lack of access to care
Skin conditions are often disproportionately more common and exacerbated in unhoused individuals due to lack of hygiene, extreme weather, underlying medical conditions and substance abuse, according to research published in The Journal of Cutaneous Medicine and Surgery.
Often, these skin conditions go untreated and get progressively worse, even life-threatening.
"Our skin is the first barrier to prevent any kind of infection," said Mendez. When a patient does not have access to showers, clean clothes or other basic hygienic necessities, then a simple cut has the risk of becoming infected and transforming into a cellulitis (bacterial skin infection) that can potentially spread to the blood and become life-threatening if left untreated."
The population of unhoused individuals in Phoenix has risen by 54% from 2019 to 2023, according to a 2023 annual street and shelter count by the U.S. Department of Housing and Urban Development. According to research, people who experience homelessness have the highest prevalence of skin infections and non-melanoma skin cancer compared to the general population.
The Street Clinic in downtown Phoenix is another organization that provides care directly to individuals living in The Zone, Phoenix's largest homelessness encampment.
The Phoenix homeless encampment:What does it take to count everyone living in Phoenix's largest homeless encampment?
"We're managing people in the street who won't even go to a doctor's office or physician's office," said Dr. Robert Fauer, who oversees the clinic and serves as the medical director of the College of Public Health Community Outreach and Engagement Program at the University of Arizona.
Fauer works with a team of medical providers and students to address both the medical and living conditions experienced by individuals living in The Zone. In addition to providing them with medical treatment and over-the-counter supplies, The Street Clinic also provides those living in The Zone with tools to help address basic needs, like food, water, clothes and tents.
"Some of these people are so marginalized that they have no ability to do what you ask them to do," Fauer said. "That's why the immediacy of street medicine is important."
It's not as simple as prescribing a medication for a patient to pick up at a pharmacy or telling a patient to schedule a follow-up appointment, Mendez said. Medical providers need to go beyond the obvious pharmacologic treatment and think holistically to address each patient's unique barriers to access to care.
When it comes to treating unhoused individuals, "you have to think outside the box," Mendez said. "Every time it is different."
Transportation, cost barriers limit treatment
It's not uncommon to be treating a patient and then have them pull out a written prescription they had from a past physician, according to Fauer. Several barriers prevent them from getting the medication filled at a pharmacy — the most common being lack of transportation.
Walking long distances to the pharmacy in the extreme Arizona summer heat can be unsafe. Also, leaving one's belongings for an extended period of time increases the likelihood of them getting stolen. This may prevent people from leaving their stations and seeking care. Unhoused patients in the labor force may also find it difficult to get to the pharmacy during working hours, Fauer said.
Dr. Gary Kirkilas is a pediatrician who works at Phoenix Children's Hospital Crews'n Healthmobile Clinic, a medical van that travels across the Valley to provide free medical care to people experiencing homelessness or undocumented people under the age of 24.
"If I have a kid with a really bad eczema rash and if I was in a normal clinic, I would just say 'Triamcinolone. Go to CVS. Next patient,' right?" he said. "With our patients, if it's July, what's the likelihood that this mom with two kids will jump on a bus and go to the CVS to pick up her prescription, even though she has insurance? All the steps are there but she doesn't have transportation."
If patients have Arizona Healthcare Cost Containment System (AHCCCS), Arizona's Medicaid insurance, sometimes they can get transportation to and from visits through their insurance. For patients who have no transportation available, Dr. Kirkilas tries to address this barrier by having a unique setup in his medical mobile clinic and pharmacy. "I'm physically able to write the medications and fill them as if I were a pharmacist," he said. "And that's sort of rare."
Look back at 'The Zone' shutdown:Phoenix silent on plans for 'The Zone' as people living there prepare for its shutdown
For patients who have access to a pharmacy, the cost of prescriptions may be inaccessible, especially if they are uninsured. Dermatologic medications tend to be very expensive and may not be covered by insurance, even with AHCCCS, which commonly insures Arizona residents experiencing homelessness who are living below the poverty line.
"In dermatology, we don't deal with a lot of situations where people's lives are threatened," said Doctor David Swanson, professor of dermatology at Mayo Clinic. "But we routinely deal with things that create situations where people's lives are intolerable, where they're miserable, where life is not is not worth living. And yet they can live a long time or indefinitely in that context."
Swanson has experience volunteering with unhoused and low-income individuals at St. Vincent de Paul and other facilities. He said the most frustrating part of volunteering is that the medications are too expensive for his patients.
"For example, atopic dermatitis [common eczema] is a condition that affects 7% of the population. In order to be treated for it, you have to have access to care. And the cost of that access is going up, up, up," Swanson said.
Treating skin conditions as well as mental health
Often barriers are unique to not having a stable living situation, lack of safe conditions, as well as comorbid conditions such as mental health or substance abuse. "These families are dealing with bigger fish to fry than to follow all my medical advice to the tee," Kirkilas said. This often complicates treatments that would be relatively simpler for the general population with stable living conditions, he added.
For example, getting rid of scabies — an infestation of the skin by the human itch mite — requires not only treating the individual but their environment as well, such as clothes and bedding.
"A lot of times, the younger kids with scabies, they're living in their car, so they don't really have access to wash their clothes or change their bedding," he said. We provide these patients with medication and donated clothing. "But other than that, it's kind of doing the best we can with what we have available," he said.
The worst cases of athlete's foot or foot fungus occur in unhoused teenage boys, he said. "Shoes are a hot commodity, especially nice ones."
People will sleep with their shoes on and then wear them throughout the day without ever taking them off or changing their socks. As a result, they get some pretty bad athletes' feet, to the point where the skin is very red and sloughing off.
Stay up to date on 'The Zone':Judge gives Phoenix until November to permanently clear 'The Zone' homeless encampment
"They can't take their shoes off because if they do, they'll get stolen. Then, they'll be without shoes and that's not easy either when you're on the streets, when the surface temperature of the concrete is like 115," Kirkilas said. Not wearing shoes during extreme heat can cause third-degree burns that require admittance to the hospital.
Skin issues can be associated with and even cause serious psychosocial problems that affect patients' lives, according to experts. More than a cosmetic nuisance, skin conditions like acne, psoriasis, eczema and hair loss can reduce the quality of life and increase the risk for depression and anxiety, similar to other disabling diseases like arthritis or diabetes.
When it comes to treating skin conditions, a holistic approach is needed to address conditions that may appear superficially unrelated.
"If you're a 14-year-old boy or a girl and you've got psoriatic plaques on a significant part of your body, you are subjected to isolation, bullying and all of the aspects of being ostracized," said Swanson. Unlike most diseases that are not apparent to the naked eye, skin disease is often obvious to both the patient and the people around them. As a result, patients end up suffering from social stigmatization on top of their disease symptoms.
"There's a very strong connection between the two (skin care and mental health)" Kirkilas said. "It may seem trivial, someone's acne or someone's eczema, but there's some big mental health correlations with those... A teenager might come in for acne, and their parents are homeless, and they're in a shelter. But I also notice that they're really depressed," Kirkilas said. He is then able to refer them to Crews'n Mobile's licensed clinical social workers, who can connect the patient to resources as well as provide them with counseling treatments.
At least a quarter of individuals experiencing homelessness have a severe mental illness, according to the Substance Abuse and Mental Health Services Administration.
When treating people who have had severe traumas in their past, they can be kind of resistant, said Mendez. "You have to try and gain their trust. They need to learn to trust us so that they can take advantage of the resources available to help them," she said.
This reporting was produced in collaboration with The Arizona Republic/La Voz and the Walter Cronkite School of Journalism's course on Community Engagement Reporting, an effort to build trust and reach underrepresented and underserved communities of metro Phoenix.