NYU Langone Receives $9.8 Million to Advance Pediatric Medici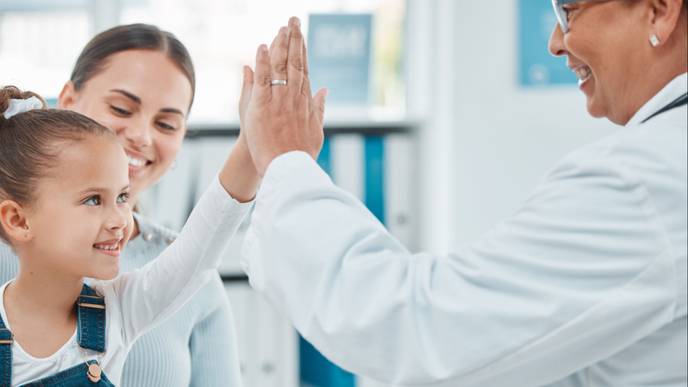 10/31/2023
Gift establishes the Sala Elbaum Pediatric Research Scholars Program and the Sala Elbaum Fellowship Endowment Fund.
NEW YORK, Oct. 30, 2023 /PRNewswire/ — The Department of Pediatrics at NYU Langone Health has received $9.8 million from NYU Langone trustee Trudy Elbaum Gottesman and Robert W. Gottesman, founding donors of Sala Institute for Child and Family Centered Care, which has profoundly influenced excellence in clinical care across Hassenfeld Children's Hospital at NYU Langone since 2013.
"We are proud to support innovations in pediatric research and career growth of physician–scientists," said Trudy Elbaum Gottesman. "Our commitment is unwavering and focused on enhancing outcomes for children everywhere."
The Gottesmans' recent funding will promote innovation in pediatric research, foster the career development of gifted pediatric physician–scientists, prepare pediatric fellows for life-changing careers, and play a pivotal role in advancing the understanding, prevention, diagnosis, and treatment of childhood diseases.
"Providing exceptional care means understanding the unique needs of the patients we see at NYU Langone Health—and there is often no patient more vulnerable, or more resilient, than a child," said Robert I. Grossman, MD, dean of NYU Grossman School of Medicine and CEO of NYU Langone Health. "We are fortunate to have supporters like the Gottesmans, who know this so well and are deeply committed to ensuring that Hassenfeld Children's Hospital, through Sala Institute, remains the best place for any parent to seek care for their child. Their most recent gift allows us to continue to enhance research, fellowship training, and the next generation of pediatricians."
Advancing Clinical Research That Enables Pediatricians to Better Treat Children's Health
One of the key initiatives supported by the Gottesmans' most recent giving is the creation of the Sala Elbaum Pediatric Research Scholars Program. To help meet a global need for more pediatric physician–scientists, the program provides early-career clinicians support and protected time for an intensive, supervised career development experience in the fields of biomedical, behavioral, or clinical research.
"This type of formalized program is critically important for enhancing research in pediatric healthcare, to ensure progress in the field overall," said Catherine S. Manno, MD, the Pat and John Rosenwald Professor of Pediatrics and chair of the Department of Pediatrics. "The program will strengthen our ability to attract, grow, and retain the most talented future leaders in science and clinical care, both from within and from across the country to the NYU Langone Health and the Hassenfeld Children's Hospital community."
The first two Sala Elbaum Scholars are Carol Duh-Leong, MD, a general pediatrician at Hassenfeld Children's Hospital, and Kirsty Hillier, MD, a pediatric hematology–oncology specialist at the Stephen D. Hassenfeld Children's Center for Cancer and Blood Disorders.
Over the course of four years, Sala Elbaum Scholars will be supported and trained through this program, and upon completion, continue to conduct their research independently and competitively through outside grant support.
Training the Next Generation of Pediatric Physician Leaders
In addition, the Gottesmans' generosity has created the Sala Elbaum Fellowship Endowment Fund, which will ensure the longevity of a rigorous and competitive fellowship program in the Department of Pediatrics. The Department of Pediatrics recruits some of the nation's most promising young doctors, training a full roster of fellows in the diagnosis and care of children with complex and chronic conditions. In recognition of the Gottesmans' gift, two fellows in the Department of Pediatrics will be named Sala Elbaum Fellows in key pediatric subspecialty areas.
Pediatric subspecialists require an additional two to three years of fellowship training after the four years of medical school and three years of residency that are required to become a general pediatrician.
"Pediatric specialists are the only physicians uniquely qualified to treat many children with complex conditions," said Dr. Manno. "This fund will help us continue to provide top-notch training to our pediatric fellows, ensuring more pediatric physicians have deep experience in child- and family-centered care."
About the Gottesmans
Trudy Elbaum Gottesman and Robert Gottesman are staunch advocates for children's health and have helped NYU Langone achieve many milestones for pediatric care. Mrs. Gottesman has been an NYU Langone trustee since 2013. She helped found KiDS of NYU Langone in 1991, and currently serves as chair of Sala Circle, a community of supporters working together to advance the health and wellbeing of children at Hassenfeld Children's Hospital and beyond. Mr. Gottesman is the executive chair, senior managing director, a portfolio manager, and the former CEO of First Manhattan. The Gottesmans have given to create and expand Sala Institute for Child and Family Centered Care—named after Trudy's late mother, Sala Bierman Elbaum, a Holocaust survivor—to ensure that children and families at Hassenfeld Children's Hospital benefit from supportive services and resilience programs tailored to their needs.
For more information or to make a gift to Sala Institute to support children's health, visit NYU Langone Giving.
Media Inquiries
Katie Ullman
Phone: 646-483-3984
Kathryn.Ullman@NYULangone.org
SOURCE NYU Langone Health System; Hassenfeld Children's Hospital at NYU Langone