New Study of Americans at Risk for Severe COVID-19 Illness Shows More than a Quarter Lack Access to Adequate Intensive Care Resources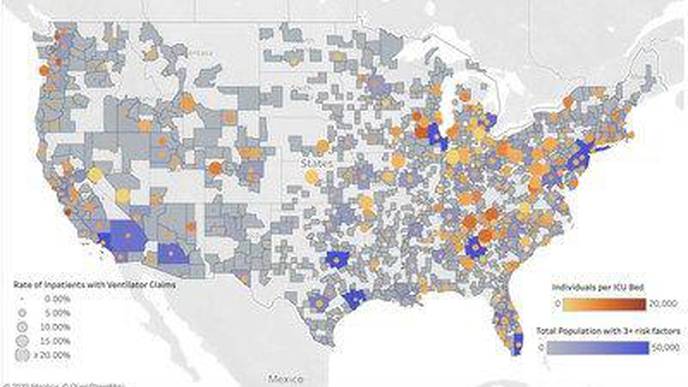 04/06/2020
Castlight Health, Inc. (NYSE: CSLT) today announced the results of a new report examining claims data from more than 6 million commercially-insured individuals to identify geographic populations at high-risk for COVID-19 illness relative to local capacity for intensive care. The study found that more than a quarter—28.4 percent—of high-risk Americans would likely have challenges accessing critical care resources during the COVID-19 pandemic.  
Specifically, the study found that the metro areas surrounding Washington D.C., Detroit, New York City, Seattle, Atlanta, Charlotte, and Dallas are more likely to face scarcity of intensive care units and have high pre-COVID ventilator use, suggesting high-risk patients in these areas could see shortages of these critical resources.
"We know people at-risk for severe illnesses are dispersed across the U.S., and we know that ICU beds and ventilators are in short supply. This study allows us to project areas of highest need as the pandemic evolves," said Maeve O'Meara, CEO of Castlight Health. "Some of the most vulnerable populations are in cities that have yet to hit peak incidence of COVID-19, and this study can help provide the head start they need to prepare."
The study found 22.8 percent of the evaluated population had at least one clinical risk factor for severe illnesses with a COVID-19 infection, such as asthma, diabetes or high blood pressure.  Age was highly associated with an increasing number of risk factors. The study also found that 19.2 percent of at-risk patients live in metropolitan areas with lower ICU bed availability, and more than ten percent live in areas with no ICU beds.
It is important to note that there is significant variance within counties in terms of resources and presence of high risk populations. This data underscores the need for coordination among local public health officials and hospital administrators. Results of the study have been shared with local governments to inform plans for coordination of resources across areas of potential need.
Castlight has also provided heat maps to enterprise customers leveraging their own claims data to help identify hot spots in their employee communities. This analysis enables customers to prepare mitigation strategies for these vulnerable populations, including extra vigilance around COVID-19 symptoms and communication approaches to engage these populations with specific guidance.
The study's analysis is based on the medical and pharmaceutical claims of a sample of over 6 million people on commercial insurance. Researchers examined the distribution of commercially-insured people at the highest risk for severe disease, distribution of intensive care beds in the U.S., and distribution of baseline ventilator use to determine geographic care gaps. Castlight assessed risk by evaluating medical claims indicating a prior or current clinical history that matched published risk factors, including pulmonary disease, hypertension, heart disease, cancer, chronic kidney disease, or use of immunosuppressive medications. Severe outcomes associated with COVID-19 compared to intensive care capacity are displayed in the map below.
The latest study follows the launch of Castlight's COVID-19 testing site finder tool, which is the first comprehensive directory of all 50 states. Castlight also released a report on the cost of seeking care for COVID-19 across and within major U.S. cities. That report found extreme variation in cost of COVID-19 evaluation across 12 cities, including Los Angeles, Dallas, and Miami.