Machine Learning Is Booming in Medicine. It's Also Facing a Credibility Crisis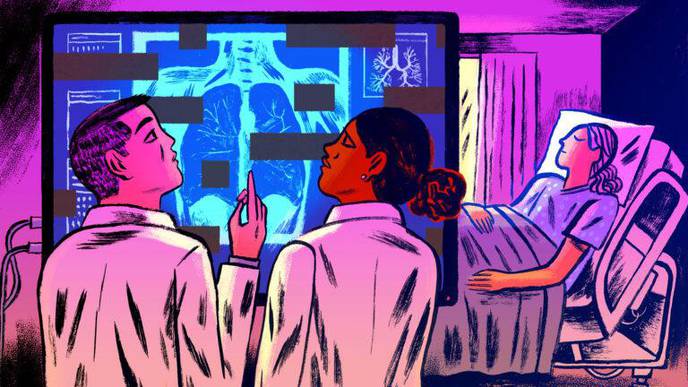 06/04/2021
Photo: Mike Reddy for Stat
The mad dash accelerated as quickly as the pandemic. Researchers sprinted to see whether artificial intelligence could unravel Covid-19's many secrets — and for good reason. There was a shortage of tests and treatments for a skyrocketing number of patients. Maybe AI could detect the illness earlier on lung images, and predict which patients were most likely to become severely ill.
Hundreds of studies flooded onto preprint servers and into medical journals claiming to demonstrate AI's ability to perform those tasks with high accuracy. It wasn't until many months later that a research team from the University of Cambridge in England began examining the models — more than 400 in total — and reached a much different conclusion: Every single one was fatally flawed.
"It was a real eye-opener and quite surprising how many methodological flaws there have been," said Ian Selby, a radiologist and member of the research team. The review found the algorithms were often trained on small, single-origin data samples with limited diversity; some even reused the same data for training and testing, a cardinal sin that can lead to misleadingly impressive performance. Selby, a believer in AI's long-term potential, said the pervasiveness of errors and ambiguities makes it hard to have faith in published claims.
"You end up with this quite polluted area of research," he said. "You read a lot of papers and your natural instinct is not to want to trust them."
The problems are not limited to Covid-19 research. Machine learning, a subset of AI driving billions of dollars of investment in the field of medicine, is facing a credibility crisis. An ever-growing list of papers rely on limited or low-quality data, fail to specify their training approach and statistical methods, and don't test whether they will work for people of different races, genders, ages, and geographies.
These shortcomings arise from an array of systematic challenges in machine learning research. Intense competition results in tighter publishing deadlines and heavily cited preprint articles may not always undergo rigorous peer review. In some cases, as was the situation with Covid-19 models, the demand for speedy solutions may also limit the rigor of the experiments.
By far the biggest problem — and the trickiest to solve — points to machine learning's Catch-22: There are few large, diverse data sets to train and validate a new tool on, and many of those that do exist are kept confidential for legal or business reasons. But that means that outside researchers have no data to turn to test a paper's claims or compare it to similar work, a key step in vetting any scientific research.
The failure to test AI models on data from different sources — a process known as external validation — is common in studies published on preprint servers and in leading medical journals. It often results in an algorithm that looks highly accurate in a study but fails to perform at the same level when exposed to the variables of the real world, such as different types of patients or imaging scans obtained with different devices.
"If the performance results are not reproduced in clinical care to the standard that was used during [a study], then we risk approving algorithms that we can't trust," said Matthew McDermott, a researcher at the Massachusetts Institute of Technology who co-authored a recent paper on these problems. "They may actually end up worsening patient care."