Lone Star Tick Brings Heartland Virus to Illinois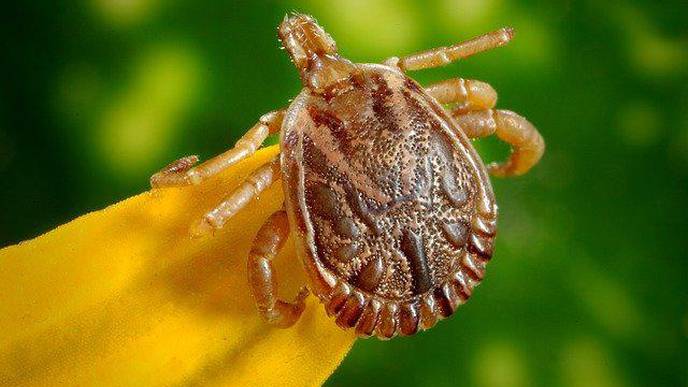 07/23/2020
Ticks: They're not the stuff that summer dreams are made of.
The tiny insects wait in the grass for a mammal to brush up against them before latching onto their host and feeding on its blood.
Ticks are so good at transmitting potentially dangerous illnesses like Lyme disease that we're wise to give them our attention now and then. And in Illinois, ticks are now carrying a relatively new disease called Heartland Virus.
A Kankakee County resident tested positive for the virus last summer. And on Wednesday, the Illinois Department of Public Health announced the results of a new study that found Heartland virus in ticks collected in Kankakee County.
Lone star ticks are found throughout the state, said Dr. Ngozi Ezike, director of the Illinois Department of Public Health. To avoid tick bites, Ezike recommends wearing long pants when walking in the woods or tall grass, and to watch out for ticks crawling on your skin or those that have already latched on.
According to the IDPH, Heartland virus was first identified in 2009 when two Missouri farmers who had been bitten by ticks were admitted to a hospital. Reported cases of Heartland virus are relatively rare, but almost all individuals with the virus have been hospitalized. Most have fully recovered, though a few have died, the agency says. There are no vaccines to prevent Heartland virus.
The virus can be difficult to distinguish from other viruses, says Ezike. Symptoms include "general malaise, fever, headaches, fatigue. Providers who see these symptoms need to ask if the patient has recently been in wooded areas or high grass."
Ticks don't transmit disease until they have latched onto the host's skin. If a tick has already latched on, the IDPH offers this advice for removing it:
Remove any tick promptly. Do not try to burn the tick with a match or cover it with petroleum jelly or nail polish. Do not use bare hands. The best way to remove a tick is to grasp it with fine-point tweezers as close to the skin as possible and gently, but firmly, pull it straight out. Do not twist or jerk the tick. If tweezers are not available, grasp the tick with a piece of cloth or whatever can be used as a barrier between your fingers and the tick. You may want to put the tick in a jar of rubbing alcohol labeled with the date and location of the bite in case you seek medical attention and your physician wishes to have the tick identified.