HIV Stigma Campaign 40 Years After Tombstone Ads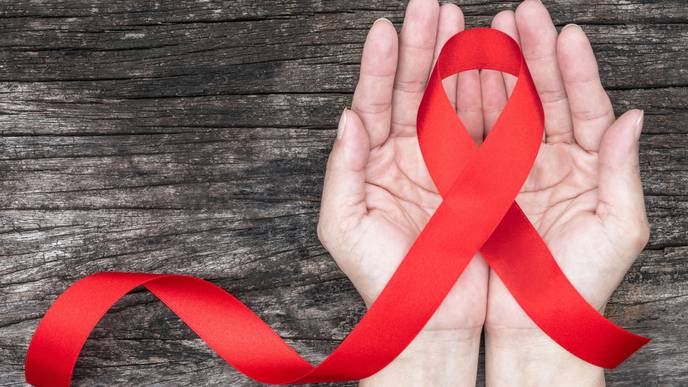 10/16/2023
An advert aimed at tackling the stigma around HIV is to air on Scottish TV nearly 40 years after the "Don't Die of Ignorance" campaign.
The Terrence Higgins Trust, the charity behind the advert, said Scotland could be the first country in the world to end new cases of the virus.
Its new film ends with the message that stigma is now more harmful than HIV.
The charity said the original 1980s campaign had saved lives but also terrified a generation.
Emma McAnally, who was diagnosed with HIV in 2016 while in a long-term relationship, told the BBC Radio's Good Morning Scotland that she faced stigma from healthcare providers.
"I think there's a lot of misunderstanding and misinformation within the general public," she said.
"But my main experiences of stigma have been from the healthcare profession."
Stigma from healthcare professionals is an issue portrayed in the new advert which shows a nurse "double gloving" when treating a patient with HIV - something the charity says is not good practice and is completely unnecessary.
When the UK government's 1980s Don't Die Of Ignorance campaign aired there was no effective means of controlling the HIV virus. Thousands were dying worldwide with Aids - the condition that develops in the late stage of infection.
The campaign was deliberately dark, featuring tombstones and the warning "it's a deadly disease and there's no known cure".
Since then, medical advances mean the virus can be suppressed to undetectable levels in the blood with just a daily pill, protecting the immune system of the infected person and preventing it being passed on to partners.
The new campaign focuses on the message that "you can live a healthy, happy life just like anyone else".
Ms McAnally has gone on to have two children after her diagnosis.
"Because I'm on medication I can't pass it on to anyone and I can have children that are born without HIV," she said.
Richard Angell, chief executive of Terrence Higgins Trust, said someone recently told him "I can take a pill for the virus but there is not a pill I can take for the stigma".
"And that's why we're doing this campaign," he said.
The new advert depicts HIV stigma, based on real experiences, including a father pulling his hand away after his daughter says she is HIV positive and a gay man who suffers abuse after putting his HIV status on a dating app.
The latest figures, for 2021, show a total of 6,415 people were living with HIV in Scotland. The vast majority were taking antiretroviral therapy and had an undetectable viral load.
Last year the number of heterosexuals newly-diagnosed with HIV was higher than in gay and bisexual men in Scotland for the first time in 15 years, according to data from Public Health Scotland.
Terrence Higgins Trust said the new campaign was informed by YouGov research that suggests "worryingly low" knowledge about HIV in Scotland, including:
Only a third (35%) of people would be happy to kiss someone living with HIV, despite it being known since the 1980s that the virus cannot be passed on through saliva
Almost half (46%) would be ashamed to tell other people they were HIV positive
Just a third of Scots (34%) are aware that people living with HIV on effective treatment cannot pass it on to partners
A quarter (25%) would feel worried about receiving medical treatment from a doctor or nurse living with HIV
"The government's Aids awareness advert in the 1980s undoubtedly saved lives, but it also cast a long shadow by terrifying a generation about HIV," Mr Angell said.
"That's why it is high time we update everyone's knowledge about the incredible progress that's been made in the fight against HIV over the last 40 years by bringing it back into millions of living rooms."
He said stigma was the biggest reason for people to avoid getting tested.
"Scotland is getting serious about the fact that it could be the first country in the world to end new cases of HIV and do it by 2030.
"But we can't end new cases of HIV if we aren't tackling the stigma," he said.
The TV advert will have its first outing at 19:58 on STV, just before Coronation Street, one of the channel's most watched shows.
The wider campaign will include billboards, newspapers and online messaging.
The Scottish government, which helped fund the marketing campaign, said reducing stigma would encourage more people to come forward for treatment.
The government has a target of eliminating new HIV transmissions in Scotland by 2030.