High Blood Pressure Increases Risk of Hospitalization or Death Due to COVID-19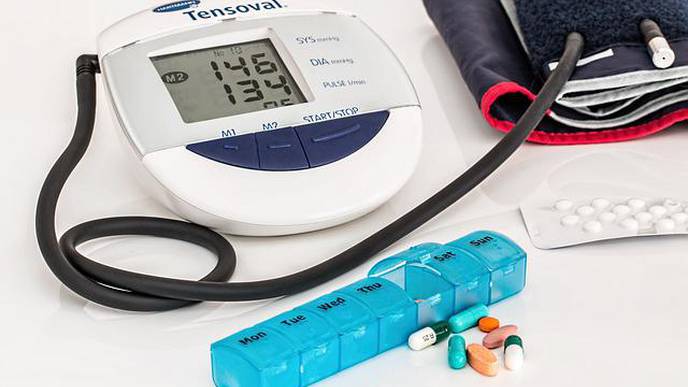 11/17/2022
Photo: Pixabay
People with high blood pressure had a 22 percent higher risk of being admitted to a hospital or dying from COVID-19, regardless of other factors, such as age, sex, ethnicity or weight status, according to a new U.K. study.
The research, published on November 9 in the journal PLoS One, is the first study to show the extent to which high blood pressure, also known as hypertension, can be directly linked to patients developing severe COVID-19.
These findings further emphasize the importance of adequate blood pressure control, said senior study author Ian Wilkinson, BMBCh, a cardiology consultant at Cambridge University Hospitals NHS Foundation Trust (CUH) and professor of therapeutics at the University of Cambridge. "Unfortunately, post-pandemic, the rates of blood pressure control have worsened, as have the number of people being screened and identified as having high blood pressure," he said.
Nearly Half of All U.S. Adults Have High Blood Pressure
High blood pressure is when blood pressure stays higher than normal. In 2017, the American College of Cardiology and the American Heart Association published new guidelines, and high blood pressure is defined as at or above 130/80 mmHg.
The first number, called systolic blood pressure, measures the pressure in your arteries when your heart beats. The second number, called diastolic blood pressure, measures the pressure in your arteries when your heart rests between beats.
Nearly half of adults in the United States — 47 percent — have hypertension, according to the Centers for Disease Control and Prevention (CDC). Only about 1 in 4 adults with hypertension have their conditions under control.
Risk of COVID-19 Significantly Increased When Systolic Blood Pressure Exceeded 150 mmHg
Although hypertension appears to be one of the most common comorbidities in people with COVID-19, there is still a lack of clarity about whether that's related to the systolic blood pressure or even the type of blood pressure medication a person is taking, according to the authors.
The study used data from the U.K. Biobank, a research database that contains in-depth genetic and health information from half a million U.K. volunteers. Researchers identified 16,134 people who had tested positive for COVID-19 and who had linked medical records, death records, and COVID-19 lab results. 
Researchers included data up until early 2021, which was before widespread availability of the COVID-19 vaccine in the United Kingdom.
In people with diagnosed hypertension, the risk of COVID-19 significantly increased once systolic blood pressure exceeded 150mmHg or the diastolic blood pressure exceeded 90 mmHg.
A systolic blood pressure of 150 to 159 mmHg was associated with a 91 percent higher risk of severe COVID-19 compared with people with a normal blood pressure reading (120–129/80–89 mmHg). There was no evidence of a higher risk of severe COVID-19 until the reading exceeded 150 mmHg.
Investigators also found that the type of medication people were receiving to treat hypertension did not appear to change the risk of hospitalization or death from COVID-19.
Hypertension May Take a Toll on the Heart That Could Worsen Infections, Including COVID-19
"Since the beginning of the pandemic, there has been an observation that individuals that are older, and therefore more likely to have hypertension, are at greater risk of having severe COVID-19 infection; this study reconfirms this observation," says Sadiya Khan, MD, assistant professor of cardiology and epidemiology at the Northwestern University Feinberg School of Medicine and a cardiologist at Northwestern Medicine in Chicago, who was not a part of this research.
However, it's hard to draw a lot of conclusions from this observational study because hypertension is usually not the only risk factor a person has. Although the study did control for diabetes diagnosis and BMI, there are potentially other uncontrolled risk factors that could impact COVID-19 outcomes, says Dr. Khan.
"It's important to emphasize that high blood pressure is very common, and it increases as we get older; the risk of severe COVID also goes up as we get older," says Khan. An estimated 70 percent of adults age 65 and older have hypertension, according to the U.S. National Health and Nutrition Examination Survey (NHANES).
"Although the findings indicated that a systolic blood pressure of over 150 mmHg was associated with a higher risk of hospitalization or death due to COVID-19, we don't have clear data that treating someone to achieve a lower blood pressure means that they would have better outcomes; we can't make any broader conclusions from these findings," says Khan.
There are potential plausible explanations for these findings, she says. Hypertension increases the risk of heart disease or a heart attack. Uncontrolled hypertension can take a toll on the heart and arteries that could make it more likely for a person to have a severe response when they COVID-19, but also when they get any infection, she says. "We know this is also true for influenza, for example."
Hypertension and COVID-19 Disproportionately Impacts Black Americans
"Hypertension remains the leading risk factor for death in the U.K. and worldwide, despite effective treatments, and affects low income groups and individuals from ethnic minority backgrounds," said Dr. Wilkinson.
This public health problem need to be addressed as part of the "leveling up" agenda, he said. "A national trial is currently underway to improve treatments for hypertension, specifically for people from Black, Asian, and minority ethnic communities. At the moment most treatments have been tested mainly on white people and it's not known if these are as effective on other ethnic groups," said Wilkinson.
In the United States, hypertension is more common in Black Americans than in white Americans, according to the CDC.
Black Americans are also at higher risk of hospitalization and death due to COVID-19 compared with white Americans — the risk of death is 70 percent higher, and the risk of dying due to COVID-19 is more than double, according to the agency.
Key Takeaways: Know Your Numbers and Stay Up to Date on COVID-19 Vaccines and Boosters
Hypertension is often a silent disease — unlike many other health conditions, there are no obvious symptoms, so many people with the condition don't even know they have it.
There are risk factors that can contribute to high blood pressure, including a poor diet with high sodium intake, alcohol and tobacco consumption, being overweight or obese, physical inactivity, sleep apnea or poor sleep and high stress levels.
"The advice I give all my patients to improve their health outcomes — not just for COVID — is to have an awareness of your blood pressure numbers because it can change day to day, week to week, month to month," says Khan. Knowing your numbers is important when you have hypertension, not just for COVID-19 but for all health outcomes, including cardiovascular disease prevention, she says.
"On the COVID front, I think the most important thing this study tells me is that it's really important to protect yourself from COVID-19 by staying up to date with vaccinations and boosters," says Khan.