Hematologic Malignancies Associated With Higher Mortality in Patients With Cancer & COVID-19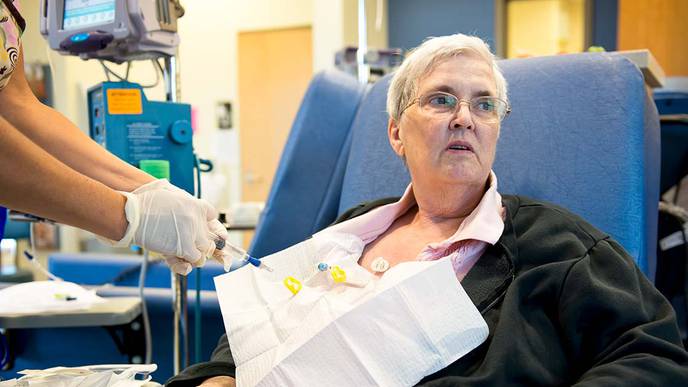 06/07/2021
Photo: ASCO Daily News 
Key Points:
Long-term survival probabilities differed for patients with cancer who were COVID-19–positive compared with COVID-19–negative, with COVID-19 positivity significantly associated with mortality.
Older age, male gender, increasing comorbidities, and hematologic malignancies were all linked to higher mortality for patients with cancer and COVID-19.
New data from the National COVID Cohort Collaborative (N3C) has confirmed several factors that are associated with higher all-cause mortality for patients with cancer and COVID-19.
"Consistent with previous literature, older age, male gender, increasing comorbidities, and hematologic malignancies were associated with higher mortality in patients with cancer and COVID-19," said Noha Sharafeldin, MBBCh, MSc, Ph.D., of the University of Alabama at Birmingham, who presented findings on outcomes of COVID-19 in patients with cancer (Abstract 1500) during the 2021 ASCO Annual Meeting.
Using the N3C cohort, Dr. Sharafeldin and colleagues assembled the largest nationally representative cohort of patients with cancer and COVID-19 in the United States to date. Looking at a sample of more than 370,000 adult patients with cancer, the study showed that there was no difference in survival probability between COVID-19–positive (14.7%) and –negative patients in the early days after a COVID-19 diagnosis.
However, starting at 30 days and beyond, survival differences were found. At 90 days, the survival probability was 35% for COVID-19–positive patients and 50% for COVID-19–negative patients. In an adjusted Cox model, COVID-19 positivity was significantly associated with mortality, with a hazard ratio (HR) of 1.20 (p < 0.001).
Speaking about the study—s findings, Discussant Anna Lee, MD, MPH, of The University of Texas MD Anderson Cancer Center, called the results "interesting."
"In the last year, we saw that the COVID-19 pandemic has amplified preexisting disparities, especially for patients with cancer," she said.
Adjusted analyses from the study showed that COVID-19 positivity increased the risk of death for patients age 65 and older (HR 1.99), for men, for those with multisite tumors (HR 1.25), or hematologic malignancies (HR 1.15), and for those with an increasing number of comorbidities. Additionally, recent receipt of cytotoxic therapy increased risk of mortality (HR 1.52), whereas receipt of targeted or immunotherapy did not.
Dr. Lee discussed the results in context, referencing differing access to care through the Affordable Care Act and Medicaid expansion programs.
"Insurance coverage can affect not only access to care but disparities in the quality of care, which, in turn, can affect survival," Dr. Lee said. "Uninsured patients are more likely to present at more advanced stages and are less likely to receive cancer-directed therapy, which can ultimately translate into increased cancer mortality."
A recent study found that the COVID-19 pandemic has increased the impact of the Affordable Care Act—s Medicaid expansion option.1 If the 14 remaining states that declined expansion had expanded eligibility in 2020, 4.4 million fewer people would have been uninsured in 2020.
"As more states are expanding Medicaid, gains in cancer and COVID-19 outcomes are expected to be seen," Dr. Lee said.
In the N3C study, the most common types of primary malignancies represented were skin cancers (15%), breast cancer (14%), prostate cancer (12%), hematologic malignancies (12%), and multisite cancers (11%). The study also showed that the average length of stay for hospitalized COVID-19–positive patients was 6 days, with 7% of patients dying during initial COVID-19 hospitalization. Additionally, residing in the U.S. South (HR 1.34) or West (HR 1.70) was also associated with an increased risk of mortality.
Black or African American race (13% of the N3C cohort) was associated with a decreased risk for all-cause mortality (HR 0.82). Smoking was not associated with mortality risk.
Dr. Sharafeldin mentioned several limitations to the N3C study, including data missingness and limited ability to capture recent cancer therapy. In addition, there was potential for the misclassification of patients with cancer and challenges associated with primary cancer diagnosis mapping.
"Future studies of the cohort will provide insights into the evolving effect of COVID-19 on patients with cancer and guide the clinical treatment of our patients," Dr. Sharafeldin said.