FDA Renews $7.4M Grant for Pediatric Device Innovation Co-Led by Texas A&M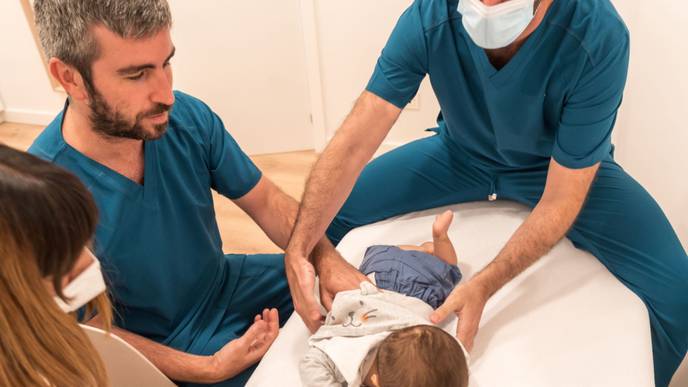 11/09/2023
Most organizations and companies have two main goals — fulfill a purpose and generate profit. In some cases, profit is prioritized over purpose. However, for researchers at Texas A&M University and their partners with the Southwest-Midwest Pediatric Device Innovation Consortium (SWPDC), the purpose transcends profit.
The SWPDC was established in 2018 with $6.75 million in funding from the U.S. Food and Drug Administration (FDA) to address the pediatric device development and innovation deficit. Following five years of substantial outcomes, the FDA has officially renewed the SWPDC for another five years with an additional $7.4 million grant. 
"This FDA grant program allows our world-class institutions to jointly support pediatric device innovators to create novel pediatric medical devices with local, regional, national, institutional and innovation partners to address this public health problem," said Dr. Chester Koh, SWPDC executive director and lead investigator, professor of urology and robotic surgery at Texas Children's Hospital and Baylor College of Medicine.
Dr. Balakrishna Haridas, a professor of practice with the Department of Biomedical Engineering at Texas A&M University, serves as SWPDC deputy executive director. The two lead a team of interdisciplinary collaborators passionate about helping children who need engineering solutions to medical problems.
Haridas said his lab has developed several devices in the past five years and has greatly benefited by working with the ecosystem provided by the SWPDC.
"In five years, the SWPDC has supported over 200 pediatric device innovators and companies at various stages of development from concept to application in the clinic," Haridas said. "We've also had several devices developed internally in our lab and get licensed toward commercialization in collaboration with pediatric physicians. We are proud to say that we have a robust external and internal innovation pipeline and portfolio serving the pediatric space."
The need
Many pediatric conditions are rare, resulting in costs that outweigh revenue projections and discouraging entrepreneurs and private companies from undertaking the task of pediatric device innovation.
To address the need for innovation, the FDA funds the pediatric devices consortia formed by a union of children's hospitals, local academic institutions and industry partners to jumpstart pediatric device innovation and ecosystems nationwide.
"Physicians are often forced to use adult devices off-label in children," said Achu Byju, a research engineer in the biomedical engineering department at Texas A&M. "Quite often, the adult devices are found to be inadequate. The SWPDC serves to accelerate the development of more pediatric medical devices through engineering and business support to innovators in that space."
Real-world evidence research approach
The SWPDC's portfolio includes real-world evidence (RWE) medical device research projects using digital tools for collecting and analyzing patient data and developing insights using artificial intelligence (AI) and machine learning approaches. Used commonly by the FDA, RWE research is based on data pulled from health records, medical claims, product or disease registries, allowing an accurate prediction of device success.
"There is more and more push toward real-world evidence in evaluating medical devices and drugs because clinical trials often do not reflect real-world conditions of use," Haridas said.
Under Haridas' direction and co-led by Dr. Madhav Erraguntla and Dr. Mark Lawley from the Wm Michael Barnes '64 Department of Industrial and Systems Engineering at Texas A&M, a team has developed the Adverse Event Detection & Management (AEDM) system. The AEDM digital platform incorporates AI and machine learning algorithms that use data from medical devices, wearables and sensors to help predict adverse events in patients across a range of clinical indications.
Moving Forward
According to Haridas, his lab's current projects include custom device design and exploring degradable materials for tissue repair, but the area of long-term focus is to eliminate the need to completely remove fetuses from the womb to correct fetal abnormalities, making fetal surgery a minimally invasive process. Within the previous cycle, the team successfully developed a device that keeps the fetal membranes attached to the uterine wall, addressing the main challenge of in-utero surgery and opening the doorway for safe access.
"We're now able to create safe access to the baby and address the 15 or so congenital abnormalities detected in the second trimester," Haridas said. "It enables the whole range of fetal procedures to be done in a minimally invasive fashion by addressing the key risk of membrane detachment."
Haridas also mentioned that the grant renewal provides an opportunity to continue the momentum built in the past five years and build a center of excellence in pediatric device development, manufacturing & commercialization headquartered in Texas.
Partnerships and reach
In addition to their device successes, the SWPDC broadened their influence within the last five years. Initially comprised of four children's hospitals in Texas and one in Arizona, the consortium has recruited four additional children's hospitals to expand their reach from South Texas to the Midwest.
"We recruited Driscoll Children's, Arkansas Children's, Nebraska Children's," Haridas said. "We slowly made our way up the Midwest and got the big one, the University of Minnesota Children's Hospital in the middle of Medical Alley, where you have all the medical device companies in Minneapolis."
By expanding the network, the SWPDC can aid a wider variety of pediatric device innovators. Their partners can provide support in many areas, including clinical, scientific, business, financial, regulatory, reimbursement, engineering, FDA-compliant product design and manufacturing, intellectual property and training support.
Texas A&M is the lead institution for engineering research & development within the partnership, supporting the consortium's engineering, research development and product design activities. Contributors include biomedical engineering faculty members Dr. John Criscione, Dr. Gerard Coté, Dr. Saurabh Biswas and Professor Zachary Bujnoc.
In addition to supporting entrepreneurs and companies, the Texas A&M component of the program works extensively as a teaching lab involving undergraduate and graduate students in the research and development of new pediatric devices. 
"Many students have been impacted by working on pediatric device projects and take away more than just developing devices and putting them toward the path to the clinic," Haridas said. "We use that process to train students to be effective when they enter industry roles. We have a dual mission — we want them to learn by doing, and hopefully, a few of them will also become pediatric device innovators and make a difference to a highly underserved patient population."
By Bailey Noah, Texas A&M Engineering

###
---
---