Dermatology Faces a Reckoning: Lack of Darker Skin in Textbooks & Journals Harms Care for Patients of Color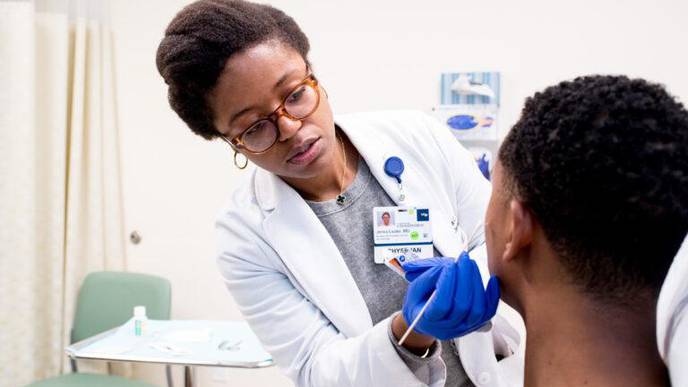 07/22/2020
Photo: Barbara Ries, UCSF
When dermatologist Jenna Lester learned that rashes on skin and toes were a symptom of Covid-19, she started searching the medical literature for images of what the rashes looked like on Black skin so she'd recognize it in her Black patients. She couldn't find a single picture.
"I was frustrated because we know Covid-19 is disproportionately impacting communities of color," said Lester, an assistant professor of dermatology at the University of California, San Francisco who recently published her analysis. "I felt like I was seeing a disparity being built right before my eyes."
The dearth of images in the Covid-19 literature is just the newest example of the glaring lack of representation of Black and brown skin that has persisted in dermatology research journals and textbooks for decades. The issue is coming under closer scrutiny now as dermatologists, like many physicians, grapple more openly with systemic racism and the health disparities it is causing in their field.
"Black Lives Matter is forcing a lot of people to look inward and say, 'Where are our shortcomings?'" said Nada Elbuluk, an associate professor of clinical dermatology at the University of Southern California and the founder of a diversity and inclusion program in her department. "Dermatology is no different."
The discrimination in her specialty extends beyond images and gaps in training, to restrictive insurance coverage for skin conditions that affect people with heavily pigmented skin, and to the many dermatologists who don't accept patients with Medicaid.
It may be no surprise that a field that focuses on skin is now reckoning with skin color. In dermatology, where images are critical for diagnoses, the lack of images of darker skin poses a roadblock to proper treatment and medical education. Skin conditions that involve redness or pinkness in light skin can be subtler or harder to see in dark skin, and physicians who haven't been adequately trained with such images are prone to misdiagnose people of color. "We absolutely need a diversity of images," said Elbuluk.
An analysis of textbooks by Jules Lipoff, an assistant professor of clinical dermatology at the University of Pennsylvania, showed the percentage of images of dark skin ranged from 4% to 18%. "We are not teaching (and possibly not learning) skin of color," Lester wrote in a separate analysis she conducted. Many worry the field's shift toward using artificial intelligence to aid diagnosis of disease will further deepen the divide because the machine learning algorithms are trained with datasets consisting primarily of fair-skinned images.
It gets worse. While many textbooks depict the vast majority of skin diseases using light skin, there is one notable exception: Black skin is more often used to depict sexually transmitted diseases, a glaring example of stereotyping that is all the more painful given the U.S. government's complicity in the notorious Tuskegee experiments that left syphilis untreated for decades in a group of poor, Black men.
Lipoff's analysis, published this year, showed many dermatology textbooks had zero images of dark skin with acne, psoriasis, or dermatitis. When it came to syphilis, however, many books relied heavily on images of dark skin. Lester's analysis found that while 28% of images of infectious diseases used images of darker skin, the number of depictions of dark skin was twice as high for infections that were sexually transmitted.
"In the textbooks I used in medical school, every penis was a Black penis showing an STD. We've got to stop that," said Susan Taylor, a pioneer in the push for better dermatologic care for patients with dark skin and the Sandra Lazarus professor of dermatology at the Perelman School of Medicine at the University of Pennsylvania.
Considered a trailblazer in the field of dermatology, Taylor established the nation's first "Skin of Color" dermatology clinic at Mount Sinai in New York in the late 1990s. In 2004, she founded the Skin of Color Society to help educate fellow dermatologists about how to treat patients of color, push for research and clinical trials to include people with darker skin, and mentor and encourage medical students of color to enter dermatology, where only 3% of practitioners are Black and 4% are Hispanic. "These are really abysmal numbers," Taylor said. "That's got to change."
Taylor is also the lead author of the textbook Dermatology for Skin of Color, a guide considered invaluable by many dermatologists. But even those who rely on the book say it's frustrating that a separate book on dark skin is still required — when as a nation we are just a few decades away from a majority of residents having skin of color.
"This is the white patient treated as the default and the Black patient as the asterisk," said Lipoff. "You can't make skin of color a lecture that students get once a year. It can't be 'otherized' or put in a separate textbook."
Taylor agrees. "Nothing would make me happier than to not have to publish another edition of that book," she said.
Dermatologists say the lack of images is one reason why many conditions, including Lyme disease, spider bites, and cancers can go misdiagnosed or underdiagnosed in darker-skinned patients, sometimes with dangerous results. The five-year melanoma survival rate for Black patients is just 70% compared with 94% for white patients.
The mother of a mixed-race 13-year-old from Connecticut said she was told by her child's pediatrician when she was 8 that the white patches on her skin were pityriasis alba, a skin rash that's usually not considered a serious condition. She was given a lotion, but the skin patches never went away. "I kept going online and looking at things but I couldn't see anyone with issues that looked like hers," said the mother, who didn't want her name used to protect the girl's privacy. "And the doctor was casual about it."
Partly because of insurance issues, and partly because the mother thought there was nothing to worry about, it took five years before her daughter's white patches were properly diagnosed: She had T-cell lymphoma, a cancer. While she will require maintenance light therapy for life, her overall prognosis is good. But her case highlights the difficult and sometimes frightening challenge many patients of color face to get a proper dermatologic diagnosis.
When Ellen Buchanan Weiss noticed patches on the dark brown skin of her toddler son, she wondered if it was eczema, or something more serious. "I Googled it and noticed immediately the pictures were all of white skin," she said. "I Googled other conditions and it was the same. No matter what I searched, there were almost no images of dark skin."
The patches did turn out to be eczema and were easily treated. Still, the disparity bothered her for months. About a year ago, Weiss, a stay-at-home mom in Raleigh, N.C., decided to create an Instagram account called "Brown Skin Matters." She posted images of skin conditions in darker skin next to images of the same condition in white skin and asked followers to send in more photos. The account exploded almost immediately.
"I've had tons of medical schools, physicians, nurses, and pharmacists all contact me saying this was useful," she said. "I never thought this was going to become a diagnostic tool."
Instagram is not exactly the best platform for making medical diagnoses, so Weiss is now working with medical experts to help create a more rigorous and searchable web-based tool for diagnosis of skin diseases in darker skin. It still floors Weiss that she, a person with no medical background, is at the center of it. "It's curious to me, and troubling, that this is 2020 and this gap is still here," she said. "Some large medical institution should have been taking care of this, not me."
The issue of textbooks failing to adequately represent skin of color is not a new one. Yet Lipoff's study compared today's textbooks with those of 15 years ago and found little has changed. Jean Bolognia, a professor of dermatology at the Yale School of Medicine, has spent more than two decades editing the widely used textbook, Dermatology; she said providing a wide spectrum of skin tones is critical and something she's worked hard to include, though she acknowledged there's more work to do.
Bolognia said she tries to include photos of the same condition in darkly pigmented and lightly pigmented skin, cropped exactly the same way and side-by-side for comparison so readers can see how the same condition can appear significantly different on darker skin. She also includes many more images of dark skin of conditions, like cutaneous lupus or scarring folliculitis, that are more likely to affect Black people.
Bolognia said she is extremely sensitive about not stigmatizing people of color by using only images of darkly pigmented skin to illustrate sexually transmitted diseases or drug users. "I noticed this as a student, the images of STDs were nearly all of patients with darkly pigmented skin, but the people I saw with syphilis were often fair-skinned," she said. "I wondered about the possibility that pictures were being taken of individuals who were less likely to say no."
The field's other widely used textbook is Andrews' Diseases of the Skin. That book's lead author, William James, is a longtime champion of diversity in dermatology, according to his colleagues at Penn, who include Taylor and Lipoff. James said representing a variety of skin tones was an important issue, but said authors were challenged by limits placed on the number of photos by textbook publishers and because findings of redness or pinkness can be hard to see in images of darker skin. "Deciding if an entity is represented at all, or more than once, is always difficult," he said in an email.
James said his textbook includes more photos of Black skin than white skin in conditions that are more common in Black patients and noted that eight of 14 photos of syphilis are in lighter skin.
A growing number of dermatologists are following Taylor's lead and opening skin of color clinics that provide care for darker-skinned patients. Lester opened one at UCSF last year. Elbuluk has worked at or founded three skin of color clinics throughout her training and early career, including at Penn, NYU Medical School, and, in 2018, at USC, where she hopes to also spur much-needed clinical research on darker skin. "It's surprising to me when large cities don't have these," Elbuluk said.
There are many reasons why people of color, particularly those who do not have private health insurance, lack access to dermatologists. Lipoff, who has examined the issue, said many dermatologists do not take Medicaid. Racial bias that discourages the treatment of Black patients, he said, is literally built into the physician reimbursement system. Many conditions that affect darker skin are often not covered by insurance because they are considered cosmetic.
Meanwhile, the highest revenue procedures, Lipoff said, include those for the diagnosis and treatment of skin cancer, which is more likely to occur in white patients. This difference in how procedures are valued and reimbursed, he said, is a perfect example of structural racism that drives practices to directly and indirectly focus on white patients and marginalize Black patients. "If Black patients earned practices three times the revenue," he said, "the disparity would disappear overnight."
Until it does, physicians who run skin of color clinics are hoping to address the lack of care, and poor care, Black and brown patients have received. The clinics are a welcome addition to people like Dar Bray, a 45-year-old behavioral therapist and darker-skinned Black man from Los Angeles.
Bray had dealt for years with deep and persistent scars caused by acne, trying bleaching creams and expensive cosmetic products, all with no success. "I went to so many doctors who didn't know what to do with my skin. All the pictures they had on their wall were fair-skinned people," Bray said. "It didn't feel like racism, it felt like just plain ignorance."
Seeing Elbuluk, he said, was immediately different. Bray is now undergoing chemical peels to remove scarring and using simple (and inexpensive) cleansers and moisturizers and says he sees a huge improvement in his skin. He's also wearing sunscreen, something no physician had ever told him was necessary; like many, he had believed the myth "Black don't crack." "When I went to the beach, I never wore sunscreen," he said. "Now I have years of sun damage."
Mistrust of white physicians led Gregory Hines, a 63-year-old longshoreman who lives in Oakland, to go years without seeing a doctor about growths under his arm, on his back, and on his neck, even as they puffed up and became, in his words "kind of weird and ugly."
"I experience it a lot, going to doctors — especially white, male doctors — they assume they know more than you. They assume they already know what your problem is the minute you walk through the door," he said.
When he heard UCSF's Skin of Color clinic had opened, he was willing to give it a try. "When Dr. Lester walked in, I said, 'Whoa, this is great,'" he said. "I wanted a Black doctor who understands Black skin."
Lester ended up removing the masses, one of which was nearly as large as a golf ball and sent them for tests to see if they were cancerous. Fortunately, they were not.
Lester is the only Black dermatologist in San Francisco. She's hoping that will change after her current crop of residents decides where they will establish their practices. Her Black patients, she said, are often shocked when she walks in the door.
"I've had patients ask if they can take a picture with me to show their grandkids," she said. "They want to talk all about me and how I got here, and I have to say, 'No, this time is for you.'"
"I'm not saying it's perfect, but we've been working really hard for over 15 years to show the whole spectrum," said Bolognia, who is now working on the fifth edition of the textbook. "I feel you can always do better and I realize I don't have enough images of Asian skin, so that is something I'm addressing."