Dermatologists Take on Viral TikTok Skincare Hacks: What's Really Too Good to Be True?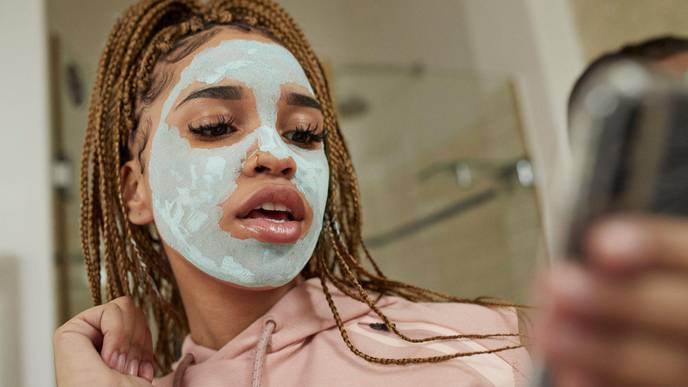 07/22/2021
Photo: Getty Images
Egg-mayo-and-sprite shampoo, lemon-juice-and-toothpaste facial, chlorophyll acne treatment, and every other weird remedy you're dying to try? Just say no, according to straight-talk dermatologists.
Lemon-juice-and-toothpaste facials that supposedly clear acne. Detox diets that "reverse" disease. A "hack" for shiny hair that uses egg, mayonnaise, and…Sprite. 
We've all seen (and, OK, maybe tried) the viral beauty and health remedies sweeping through Instagram and TikTok. According to a 2019 survey from the Cleveland Clinic, almost half of Americans get their health advice from social media. The problem, finds a 2020 study published in the International Journal of Environmental Research and Public Health, is that nearly 90% of influencers are spreading inaccurate health information — unproven at best, dangerous at worst. 
Enter the "straight-talk doctors" — a growing number of derms and physicians taking over our feeds who are speaking up, debunking myths, and bringing the scientific research. 
"There are a lot of people on social media saying, 'I'm a health expert,' but they don't have training in those fields in any way, shape, or form, which is concerning," says Dr. Rose Marie Leslie. The family medicine resident at the University of Minnesota Medical School has gained over 907,000 followers on TikTok for her straightforward advice, delivered with warmth and humor.
Armed with data, Dr. Leslie has dismantled viral trends such as waist trainers ("Sometimes they can be restrictive to people's breathing") and ear candles ("Just toss them in the trash; medical studies show they don't do anything").
Similarly, "Education, not influence" is Dr. Muneeb Shah's motto on TikTok. The dermatology resident physician at Campbell University in Wilmington, N.C., cautions against trends like the practice of drinking liquid chlorophyll to banish acne, a currently viral "hack."
"When it comes to skin, drinking liquid chlorophyll has very little, if any, data to support its use," he says. "For most people, it's unlikely to be harmful, but there's a small risk of pseudoporphyria, a blistering skin condition." Don't down a venti dose of chlorophyll — Dr. Shah suggests getting it into your diet by eating green vegetables.
Oh, and the egg-mayo-and-Sprite shampoo, and the lemon-juice-and-toothpaste facial? "Terrible!" pronounces Dr. Shah. "Never be the first to hop on a trend. And be skeptical of anything that promises immediate results or 'perfect' skin."
Busting skincare myths on TikTok is not Dr. Adeline Kikam's only goal. She's an advocate for inclusive skin care, grading products on a "brown-skin-friendly report card."
With Black board-certified derms making up just 3% of the industry, Dr. Kikam, a dermatologist and skin-of-color advocate based in South Texas, wants to address the unique needs of Black skin as well as "dispel long-held beliefs in our community, like the myth that people of color don't need sunscreen," she says.
Or the claim, currently making the rounds on TikTok, that glycolic acid isn't meant for darker skin. "This is so common, much to my dismay as a derm of color," she says. "Glycolic acid peels are used safely for the treatment of hyperpigmentation, and studies back up its clinical efficacy."
Dr. Kikam warns to be wary of the word "natural," particularly around acne remedies like coconut oil, proven to block pores, and essential oils, which should not be used directly on skin. Some citrus-based plant oils, she says, contain ingredients called furanocoumarins, which can cause burn-like skin lesions. "Natural does not always mean better," she says. 
Dr. Shereene Idriss, a dermatologist at New York's Union Square Laser Dermatology with 320,000 Instagram followers, agrees. "The label 'all-natural' needs to die, like yesterday," she says. "Preservatives have gotten a bad rep, and undeservingly so, as they're crucial in keeping a product healthy for skin."
The hilariously blunt "skin nerd" lists some of the pervasive myths she wishes would go away: that our pores open and close, that retinoids thin out our skin ("said no dermatologist, ever"), that sunscreen needs to be applied just once, in the morning.
"I'm constantly in disbelief at the skepticism and misinformation surrounding sunscreen," she says. "When, frankly, if you've ever followed a dermatologist, you would bet on sunscreen over any other skincare." 
On TikTok, Dr. Idriss and Dr. Kikam both reacted in dismay to a skincare video in which a high-profile celebrity mentioned she wasn't "a slatherer" when it came to sunscreen but liked to put it on select areas of her face "where the sun really hits." 
"Sunscreen. Is not. A highlighter," says Dr. Idriss. (For the record, she recommends half a teaspoon of broad-spectrum sunscreen, SPF 30 and above, reapplied every two hours.)
Dubious wellness gurus certainly dread seeing Dr. Joshua Wolrich's name in the comments on Instagram and TikTok, where he publicly denounces their claims with a flurry of reportedly evidence-based research. A doctor at the U.K.'s  National Health Service, his mission is to stop the rampant spread of nutritional misinformation. 
No, he says, the keto diet cannot cure mental health disorders. Alkaline diets do not work. Canola oil is not harmful ("It's been commonplace lately for wellness gurus to demonize vegetable oils, but from a health perspective, canola oil is great"). 
Dr. Wolrich's outspokenness has gotten him blocked by countless influencers. "I'm not here to make friends; I'm here to protect my patients," he says. Dr. Wolrich tells people to unfollow "anyone who makes you feel guilt or shame about your lifestyle choices" and to keep an eye out for "pseudoscience red flags, like 'toxins, 'detox,' and 'adrenal fatigue,' which is a completely made-up diagnosis." 
On the flip side, Ontario-based holistic nutritionist and health coach Samantha Gladish (41,000 Instagram followers) cautions that people shouldn't be so quick to dismiss alternative medicine on social media. "When it comes to healing the body and disease prevention, we owe it to ourselves to look at all the options available to us, and there are many beyond traditional medicine," she says.
All the docs recommend that if you spot a viral health or beauty trend, run it past your physician first. "I also tell my patients to double-check their information with trustworthy online sources like the CDC and WHO," says Dr. Leslie. 
Finally, thoroughly investigate the credentials of those you follow. "Don't let a bunch of people with no training interpret medical data," says Dr. Leslie. "Period."