Consultant Connect's Technology Quickly Connects GPs to Dermatology Specialists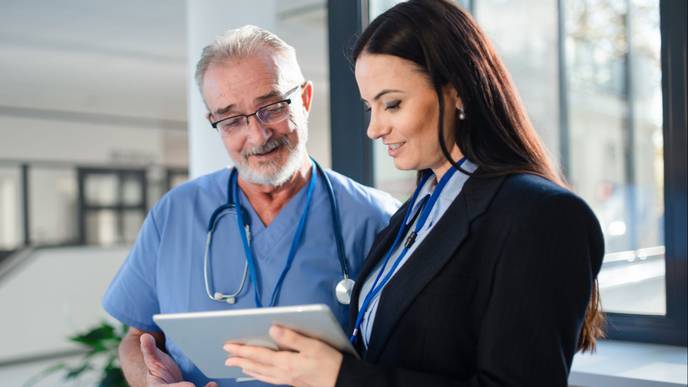 10/25/2023
NHS boards across the UK are using a revolutionary technology to give GPs access to rapid advice from consultant dermatologists.
Teledermatology (telemedicine and dermatology) technology allows GPs to take, store and forward photos and files directly to specialist NHS dermatology specialists for pre-referral advice and guidance.
Consultant Connect's PhotoSAF technology is the UK's most widely used teledermatology platform, covering over half of the NHS across England, Scotland and Wales. 3,500 NHS organizations, including GP practices and Trusts, use the service.
GPs and other clinicians take photos of patients' skin using the PhotoSAF app and share these with dermatology specialists,who can identify problems and offer advice on the best next steps for the patients.
Over two-thirds of patient cases avoid unnecessary secondary care appointments on average. This means 550,000 patient cases have benefited from the platform being used. 
The service can work with a variety of dermatology services, such as adult dermatology, children's dermatology and the "two week wait" skin cancer pathway. Photos can be shared instantly within the app if the Photo Advice and Guidance (A&G) is enabled. Photos can also be shared using local referral systems or direct to a secondary care pathway. 
Since it was first released in 2017, over 2 million dermatology photos have been taken using the PhotoSAF app. Usage of the tech has increased 2,400% in 2023, compared to 2019.
The platform already integrates directly into primary care patient records in England (call activities, photos and messages) and integrates with the NHS e-Referral Service (e-RS). 
It means GPs won't have to manually process the referral, freeing up valuable clinical and administrative time and ensuring accurate documentation of patients' condition / concern. This saves the NHS around £16 million.
PhotoSAF teledermatology is already having a massive impact on patients, clinicians and the NHS. It means that patients get the treatment they need quickly, often without having to go to hospital. We're not surprised at how usage has exploded, it's another example of the NHS making pioneering use of technology to improve care for taxpayers."

Jonathan Patrick, CEO, Consultant Connect
Dr Emamoke Ubogu, GP and partner at Swan Medical Centre said: "What stood out to me when I initially used it was getting advice from dermatology experts. As a GP, our training in dermatology is quite limited unless you undergo training to become a GP with a special interest in dermatology. This is why being able to communicate with a dermatologist is so helpful. The specialist often only needs to see photos in addition to the medical history in order to make a diagnosis."