Cardiology Society Leaders Expand on Vision for New Medical Board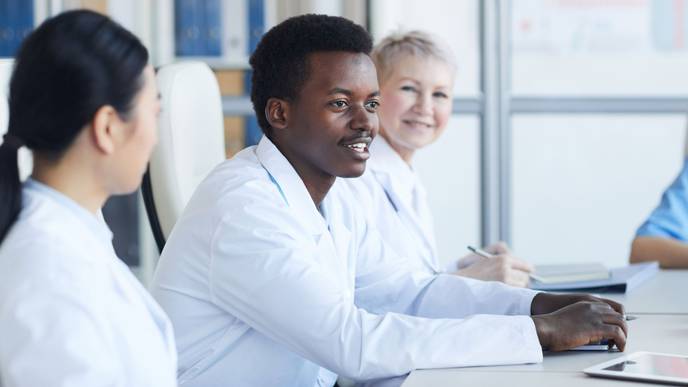 10/10/2023
Leaders from four professional cardiology societies met last week to provide more insights into their plans for a new independent medical board for cardiovascular medicine, which—if accepted—will oversee a fresh approach to continuous certification geared toward maintaining competency by addressing knowledge gaps.
The move, announced 2 weeks ago, comes after years and years of discontent among cardiologists and other physicians with the maintenance of certification (MOC) process from the American Board of Internal Medicine (ABIM), the largest board under the umbrella of the American Board of Medical Specialties (ABMS).
The main criticisms—highlighted yet again by a flare-up of anger earlier this year—are that the MOC program is time-consuming and expensive, often tests knowledge with limited relevance to physicians' daily practice, can be redundant on top of the continuing medical education (CME) activities already being performed to maintain licensure and hospital privileges, and has limited direction from practicing cardiologists.
Leaders from the American College of Cardiology (ACC), the Society for Cardiovascular Angiography and Interventions (SCAI), the Heart Rhythm Society (HRS), and the Heart Failure Society of America (HFSA) participated in a "Heart-to-Heart" discussion last week to expand on their vision for a new American Board of Cardiovascular Medicine (ABCVM) that would remove cardiologists from the purview of the ABIM. If accepted by ABMS, it would aim to ease the burden of periodic recertification, significantly cut costs of participation (by an estimated 30% to 40%), place a greater emphasis on identifying and remediating knowledge gaps, and take its cue from cardiologists representing an array of subspecialities. The initial certification process would remain largely unchanged.
Now is the right time to recognize the uniqueness of cardiology and meet the needs of all of the cardiovascular community and, most importantly, the patients who we serve. Edward Fry
"Cardiovascular medicine has evolved dramatically since becoming part of the American Board of Internal Medicine in 1941. It has become a distinct medical specialty separate from the field of internal medicine, requiring its own set of knowledge, skills, and competencies to sustain professional excellence and care for cardiovascular patients effectively," said ACC President B. Hadley Wilson, MD (Sanger Heart & Vascular Institute, Atrium Health, Charlotte, NC), who moderated the discussion. "As a result, the current mechanism for recognizing and maintaining board certification, I think we all appreciate, is increasingly less appropriate and less relevant to cardiovascular clinicians and patients."
He added, "We know that the cardiovascular community is ready for an independent, self-governed entity, and we are proud to develop this new board with cardiologists and cardiology organizations at the helm."
Together, ACC, SCAI, HRS, and HFSA will serve as the founding societies responsible for submitting an application for the new board to ABMS within the next few weeks, with a decision likely several months away. Wilson said they've received positive feedback from other CV organizations, including the American Heart Association (AHA), which has participated in the effort but whose formal endorsement is dependent on a review by its board of directors next month.
Wilson was joined by George Dangas, MD, PhD (Icahn School of Medicine at Mount Sinai, New York, NY), president of SCAI; Jodie Hurwitz, MD (North Texas Heart Center, Dallas), president of HRS; Mark Drazner, MD (UT Southwestern Medical Center, Dallas, TX), immediate past president of HFSA; Edward Fry, MD (St. Vincent Medical Group, Indianapolis, IN), immediate past president of ACC; and Jeffrey Kuvin, MD (Northwell Health, Manhasset, NY), a member of the ACC board of trustees.
Fry said this push for a new ABCVM is happening now because of the continuing concerns of cardiologists with how the ABIM's MOC program is run and a desire for a greater emphasis on ensuring competency rather than testing rote knowledge; because of the publication of new certification standards from ABMS focused on competence and lifelong learning; and—as noted by Wilson—because of the evolution of cardiology over the past several decades.
"Now is the right time to recognize the uniqueness of cardiology and meet the needs of all of the cardiovascular community and, most importantly, the patients who we serve," Fry said.
A recurring theme of the discussion was the importance of collaboration among the societies, with Dangas noting that many cardiologists belong to multiple organizations. Thus, it's not just an obligation, but also a privilege, for the societies to be working together on the new initiative, he said. "We're very committed to this process that speaks to evolving trends in continuing education, and obviously it has also been a rising demand of all physicians."
Asked how the new board will ease burdens on cardiologists, Hurwitz pointed to an educational process that will not be punitive, focusing not on just passing tests but on taking steps to make doctors better at what they do so they can better care for patients. She pointed to the possibility of bringing technology like virtual reality into the learning process and also to focusing on new developments across various fields within cardiology over shorter periods of time to remain up to date. "There's a lot of ways that this is really, truly going to ease the burden on cardiologists going forward, all of us," Hurwitz said.
How Continuous Recertification Will Work
A lot of the details of the new board are still being worked out as the societies put together their application to the ABMS, but Kuvin provided some insights into the certification process. Initial certification will be similar to how it's performed now, he said, with the main differences emerging in ongoing certification throughout a physicians' career.
He said continuous certification will be convenient, supportive, and applicable to an individual cardiologist's practice, and will incorporate credits for what physicians are already doing to stay up to date. "Importantly, it'll help the diplomate understand not only what they know but what they don't know, and allow people to fill in their knowledge gaps, link it to CME, and get credit for it," said Kuvin.
There is an emphasis on easing the process of continuous certification, Kuvin added, pointing to use of technology to streamline the process of participating in a CME activity and getting credit for it. He also highlighted the involvement of the individual societies in determining ongoing educational needs for their members: "That's something that is totally novel in this approach."
As the specifics continue to be worked out, cardiologists can go to CVBoard.org to get more information about the effort and to find answers to frequently asked questions. The website will serve as a resource as this process plays out. The societies also plan on holding additional webinars to explain the details, with the next scheduled for November 14.
Looking Forward
So far, the news of an independent board for CV medicine has been received positively, with hopes that it will ultimately lessen the burden of maintaining certification, according to society leaders.
Drazner acknowledged that the lack of details at this point may be causing some trepidation: "For those of you listening who have some angst, there will be a tremendous amount of information given to you, there's been a tremendous amount of thought already put into this, and I'm very confident that the information will be transmitted in an effective manner so that everyone will know how it might affect them."
Kuvin underscored the ABCVM would remain under the ABMS umbrella: "There will be representation from the 'House of Cardiology' that will direct this new board, but I think it's important to understand that this is not a society board. This is an ABMS board with society involvement and cardiologists at the helm who are thinking about what our cardiology needs are across the country."
There's a lot of ways that this is really, truly going to ease the burden on cardiologists going forward, all of us. Jodie Hurwitz
Importantly, Fry said, there will be well-defined firewalls regarding financial and governance relationships among the physicians overseeing the board.
Existing pathways for certification in general cardiology, electrophysiology, heart failure, interventional cardiology, and adult congenital heart disease will remain intact, he noted, adding that there is hope that in the future, the new structure will allow for integration of the imaging subspecialties—and others—as well.
For now, Kuvin stressed, physicians should continue maintaining their certifications however they're currently doing so because the ABCVM has not yet been approved by ABMS. If it is, the aim is to have a seamless transition from the ABIM to the ABCVM, he said.
Although this effort responds to cardiologists' displeasure with the MOC process from the ABIM, an important question, according to Drazner, is how this move will ultimately benefit patients. First, patients want their doctors to be competent, and this new continuous certification process, which will identify and address gaps in knowledge, "is such a much better way of enhancing learning for physicians moving forward," he noted.
And from the patient perspective, Drazner said, "to know that all those specialists now are coming together to come up with a new way to maintain competency would be very reassuring to me."