Cardiologists Make History, Perform First UNICORN Procedure During Valve-in-Valve TAVR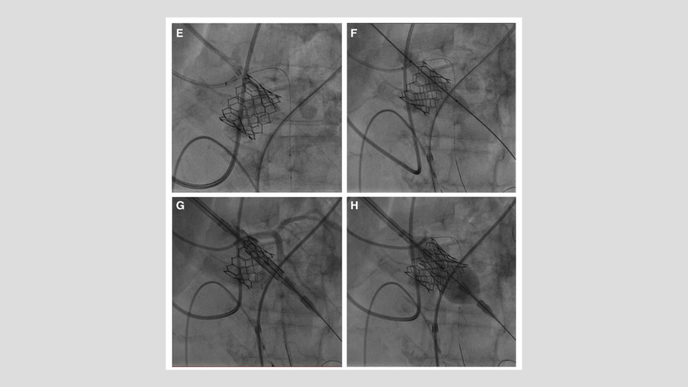 10/27/2022
Photo: Courtesy of Kwong-Yue Eric Chan, MBBS
A team of cardiologists and cardiac surgeons in Hong Kong has performed the first successful undermining iatrogenic coronary obstruction with radiofrequency needle procedure—or UNICORN for short—on a high-risk valve-in-valve transcatheter aortic valve replacement (TAVR) patient. The group wrote about their experience in Circulation: Cardiovascular Interventions, a journal launched and distributed by the American Heart Association (AHA).
The patient, a 67-year-old woman, was on dialysis and diagnosed with peripheral arterial disease and aortic stenosis. She had previously undergone transaortic TAVR with a Sapien 3 heart valve, but was readmitted to the hospital just one year later due to acute pulmonary edema. Echocardiography results revealed that her elevated mean aortic valve gradient was 45 mm Hg and left ventricular ejection fraction was 25%. The team also identified frozen left and noncoronary cusps. The patient also underwent CT, which found no signs of calcification, but did reveal a heightened risk of left coronary obstruction.
First author Kwong-Yue Eric Chan, MBBS, and colleagues from the University of Hong Kong did consider bioprosthetic or native aortic scallop intentional laceration to prevent iatrogenic coronary artery obstruction (BASILICA), describing it as "an effective technique to mitigate coronary obstruction risk." However, they wrote, "there was concern about insufficient leaflet splay" within the frame of the heart valve.
The patient and her heart team reviewed the situation together, agreeing that valve-in-valve TAVR with the UNICORN technique was the best treatment option. Chan et al. provided an in-depth breakdown of the procedure, noting that a new Sapien 3 valve was implanted
"During the initial phase of deployment, the new prosthesis expanded slowly," the authors wrote. "Following a successful laceration of the pre-existing leaflet, there was a more rapid expansion of the new prosthesis with less resistance against its inflation. The new prosthesis was intentionally implanted low to prevent coronary obstruction should the patient require another valve-in-valve procedure in the future."
All tests after the procedure indicate it was a success. The patient was discharged with a warfarin prescription.
"The UNICORN technique has several merits," the authors wrote. "When the new prosthesis is deployed intraleaflet, the old leaflet is simultaneously lacerated and entrapped, which minimizes the risk of leaflet recoil to obstruct coronary ostium or embolization. Furthermore, sequential dilatation followed by valve delivery through the fenestrated leaflet over the same guidewire potentially reduces aortic regurgitation time. Although this technique had been bench tested on a transfemoral heart model, this reported case is limited by utilizing transaortic route due to lack of alternative access."
The team also emphasized that only balloon-expandable valves should be using during the UNICORN procedure.