Can Art Therapy Combat Depression During Self-Isolation And Social Distancing?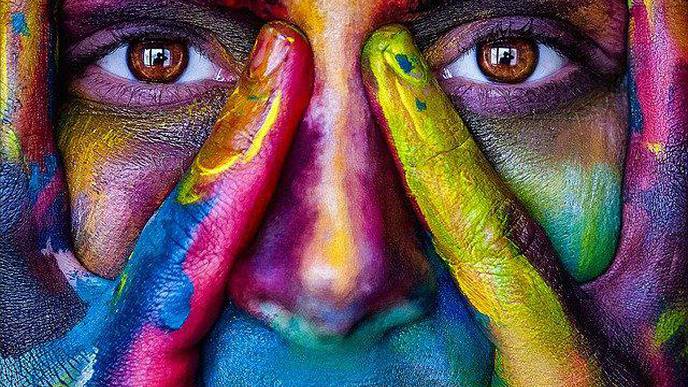 03/30/2020
Many countries have currently imposed either a formal lockdown, or otherwise recommended that people stay indoors in their own homes as much as possible. This form of social distancing will help slow the spread of the coronavirus SARS-CoV-2, but it's not always easy. However, previous research on isolated groups suggests that art therapy might offer some support.
People in isolation are at increased risk of developing mental health problems, such as depression or increased anxiety. Researchers know this from studies that have previously been done among people who were quarantined during previous disease outbreaks. 
In the 2003 SARS outbreak, for example, only those directly at risk were quarantined, and only patients were isolated. But now, during the coronavirus outbreak, many of us are stuck at home. For people who live alone, this situation is also likely to put them at risk of depression or anxiety.
Even though being isolated in this way is new for many of us, there have always been groups of the population who lived with limited social contacts. Think of prisoners, for example, or patients recovering from medical procedures that require a period in isolation. These groups have been well-studied, and researchers know quite a lot about how people fare when they're spending a large amount of time on their own. One thing that seems to help is art therapy. 
Art therapy is a form of psychotherapy that uses the creative arts as a therapy medium. Instead of talking for an hour, you might be painting or sculpting or otherwise expressing your thoughts through a creative medium. 
As a form of guided therapy, art therapy is well-studied. Research showed that it decreased depression among inmates, and made them feel more in control of their own lives.  It relieved anxiety and depression among refugee children, cancer patients undergoing chemotherapy, tuberculosis patients in isolation, people undergoing stem cell transplants or bone marrow transplants, and several other situations where a change in circumstance and increased isolation affected people's mental health. 
In some of these situations, people received group art therapy. Of course, that's not possible during the COVID-19 outbreak, but some art therapists are finding ways to connect with people online. The American Art Therapy Association collected resources for art therapists to help them continue to do their work during the outbreak. 
Not everyone has access to a remote therapist to guide their art therapy, so some are turning to online guides. This is different from the guided forms of art therapy that have been proven to work well with people in isolation, so it may not work as well — but with no other option for therapy, making art at home is at least a step in the right direction!
The UK's Channel 4 is even working on a program with Turner Prize-winning artist Grayson Perry to inspire families in isolation to make art at home.  But many people have taken to simply creating art on their own to work through their thoughts while in self-isolation, and some have shared their art on social media.
Art therapy isn't a panacea - its effects on dementia are still debatable for example — but its use to combat depression in social isolation is well-documented, and it may just help some people currently struggling with being in lockdown.